Taser Is Sued by Inventor James McNulty for Patent Infringement
One of world's largest aerospace manufacturers may have financial interest in suit.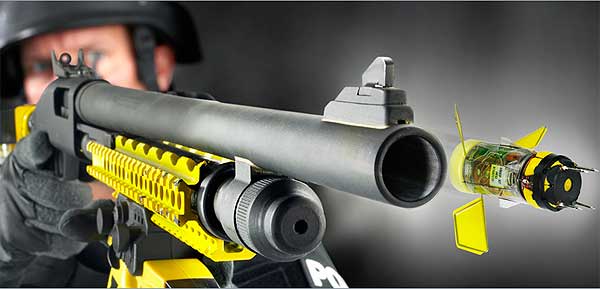 LAS VEGAS, NV –-(Ammoland.com)- Inventor James McNulty, a senior member of the Society of Manufacturing Engineers, who was a member of the research staff of the late TASER inventor John "Jack" Cover and instrumental in development of the early law enforcement model TASERS, today announced that he has sued Taser International, Inc. (Nasdaq: TASR) for patent infringement for its nascent production of wireless TASER shells, that can be discharged from conventional firearms (federal case docket no. 2:09-cv-00289-KJD-PAL).
The suit claims that Taser sells the shells in violation of McNulty's "5,831,199" and "6,877,434" patents. The suit seeks an injunction against further sales, compensatory, exemplary (punitive) and enhanced damages and attorney's fees. A case filing lists the aerospace giant BAE Systems, Ltd., manufacturer of the Harrier Jump Jet, and its affiliate Defense Technology Corporation as entities that may have a direct financial interest in the successful outcome of McNulty's case.
Documents produced in the suit and other public filings show that affiliates of a number of the world's 10 largest defense contractors are potential competitors of Taser for any substantial military markets that may develop for less lethal electronic shock weapons.
Documents produced in the suit show that one affiliate has already developed in competition with Taser's X12 and X RAIL a combination weapon, that fires ammunition cartridges that can also be interchangeably fired from and sold as replacement ammunition for Taser's X26 and M26 stun pistols, and that the affiliate has already manufactured stocks of thousands of the ammunition rounds.
McNulty, a 27 year participant in the industry commented, "Documents already produced in the case show that this competitive ammunition technology has application in the law enforcement market for TASERS and TASER ammunition. Securities and Exchange Commission filings show that resale of ammunition for the over 359,000 M26 and X26 stun pistols, which have been sold by Taser to the law enforcement market, is a significant source of revenue for the company. In its last reported quarter ending June 30, 2010, Taser's ammunition cartridge sales accounted for over 25% of its total business. Taser has no basic patents that prevent any other company from manufacturing and selling competing ammunition for the X26 and M26 products.

The prospect in my opinion is that Taser shall fight for ever smaller shares of competitively diminishing law enforcement and military markets for projectile stun guns and ammunition and against interest of such behemoth enterprises. Taser's Securities and Exchange Commission filings show that many of Taser's assets are plant and equipment, intellectual property and inventory for manufacture and sale of its current line of stun pistols and ammo. The value of these types of assets can quickly vaporize with advent of new competitive electronic control device technologies. I shall vigorously protect my advanced IP in this field for its licensees/prospective licensees."
Law Offices of James McNulty Jr., +1-909-557-3923, [email protected]