LaserLyte Announces New Side Mount Laser for Taurus Revolvers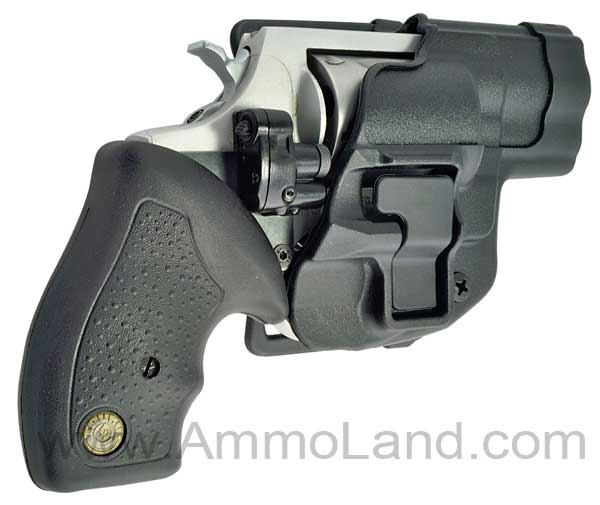 Cottonwood, Ariz. –-(Ammoland.com)- LaserLyte is thrilled to announce the Side Mount Laser (SML) that fits nearly all Taurus revolvers including the Judge, CIA, Protector and Raging Bull series.
The new and inventive SML is easily mounted underneath the rubber grip of the revolver and is the only laser system available that allows the customer to use factory or custom grips and holster the firearm.
This is especially exciting for Judge owners because the SML allows the user to utilize a laser, retain the factory Ribber Grips® that reduce felt recoil and holster the firearm.
To install the SML simply choose one of two included base plates that fits the revolver, temporarily remove the grip and screw the unit into place. Sight in is simple with common X and Y adjustments. The SML's activation switch is strategically placed at the back of the laser and is easily turned on by pressing the button on draw or when holstered. First press of the button produces constant on mode, second press produces pulse mode and third press deactivates the laser. The SML also has a customer-requested auto-off feature that displays a unique flash after five minutes of operation and automatically turns the unit off after six minutes. Press the button at any time to reset this feature that prevents accidental activation and battery depletion. The unit is also easily moved from one Taurus revolver to another.
The compact base unit contains all components necessary for operation – laser, switch, battery and circuitry. The unit body is constructed from 380A die cast aluminum and the plates are made of 4130 hardened chromoly steel. The SML is powered by four 377 batteries that provide five hours of normal usage in constant on mode and ten hours in pulse mode. Normal usage is defined as one minute on and one minute off. This test mimics actual usage where the unit is turned on and off and the battery is given time to automatically regenerate. LaserLyte offers discounted batteries on its website.
LaserLyte Side Mount Laser Specifications:
Product Number: CK-TA
Compatible Firearms: Fits most Taurus revolvers with rubber grips
Power Output: Class IIIA, 5mw
Laser module: 650nm
Batteries: four 377 batteries
Battery Life: 5 hrs. constant on, 10 hrs. pulse mode (normal usage)
Weight (with plate): .875 oz., 23 g
Length/Width/Height: .85 in./.42 in./1 in., 21.59 mm/ 10.67 mm/ 25.40 mm
Range at Night: 500 yd., 457.2 m
MSRP: $149.95
LaserLyte, the leader in laser technology, is the shooting and hunting division of P&L Industries. The company strives to heighten the experience of shooting by offering high quality, competitively priced lasers and other firearms accessories. For additional information about LaserLyte, visit HYPERLINK "https://www.laserlyte.com" www.laserlyte.com.