STI International, Inc. – SkinnErgram #124
By Dave Skinner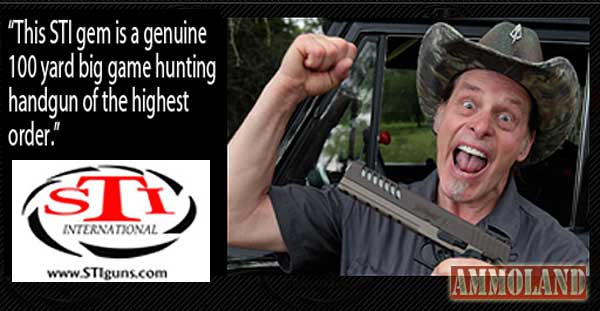 Georgetown, TX – -(Ammoland.com)- I'm fully aware of my delinquency in publishing this!
While I managed to get one out every six weeks or so for the last dozen years, it's been almost six months since Sgram #123 came out.
We have just been so focused on getting your lead times down that time did not permit some of our normal "niceties" (Sgram, Guestbook, Shopping Cart, etc.) happening.
As you've read in the previous couple missives, we've added floor space, equipment, partners, and personnel in an attempt to accommodate the demand for STI products. On one level, we have succeeded very well as we can tell by the increased volumes of products that our domestic Distributors are moving and by the increased number of export customers, military, and law enforcement organizations who have brought large contracts to our table.
Bottom line: While I expect our total volume of guns sold, produced, and delivered to increase (year over year) by 35-40%, our lead times haven't gotten much better. We're still at about 16 weeks which means we are booked solid into April (past IWA). Unfortunately, SHOT and IWA are almost upon us. Fortunately our dealers and distributors are getting much better at planning ahead, so you stand a good chance of finding what you need in their pipeline. Our larger folks have already placed their stocking orders for all of next year.
In our continuing attempts to provide you guys with the products you want and the service you expect, we will be discontinuing a couple of slow moving and/or redundant products this year (further announcements to follow) and will NOT be introducing very many new products at SHOT and IWA.
You'll love the few we'll have for you but it won't be the 6-12 new products that you are used to seeing from us. On a positive note, our "partners" are continuing to provide us with excellent support and are working with us to introduce additional models throughout 2011. The Custom Shop must remain closed for a further period of time and we have a sales/management team working to reduce the number of options available per firearm thus allowing us to further streamline our manufacturing to your benefit.
As noted above, while we're beginning to hear and read about some "doom and gloom" in our industry, we just don't see it happening here.
From around the world: We've successfully added a Distributor in Serbia where we were for the IPSC European Championships earlier this year and one in Malaysia while we were there for the IPSC AustralAsian Championship. At the European, three of our European Standard Team members placed in that Divisions' top five (including 1st & 2nd) and two of our European Open Team placed in that Divisions' top five.
I promise to not be as delinquent on our next mailing. As usual, I'll get one out to you (#125) after years end, but before the SHOT Show, bringing you up to date on our annual statistics; gun sizes/models, calibers, production increases, winners/losers in the distribution world domestically and internationally.
After that (#126 and beyond), probably starting with a report on SHOT, STI's new President/CEO, Tim Dillon, will assume this delightful task. He/we still haven't decided what his publications will be called ("Tim Talk", "Dillon's Dictums", ??????) and would welcome any suggestions ya'll might have. Please let your contact here know your ideas.
By the way, if you have not yet set up your SHOT show appointments with your STI sales rep PLEASE do so! SHOT show is a busy time for everyone and if you just show up hoping to sit down it's likely we won't be able to see you at that time. Finally, speaking of the SHOT show, our good friend New York Times Bestselling author Larry Correia will be autographing books at the STI main booth (#7306) on Wednesday 1/19/2011 at 3:00pm and at the STI Law Enforcement/Military booth (#2814) on Thursday 1/20/2011 at 3:00pm. For those of you who haven't read his 'Monster Hunter International' series, you should!
You're in for a treat.
Have fun. Do good. Sell a bunch. Preferably in that order for the time being! David L Skinner
CEO, STI International Inc.
About STI:
STI International is a leading firearms manufacturer and the pioneer of the modular frame system for the 1911. A favorite of both top competitors and custom gunsmiths, STI pistols are widely regarded as the gold standard in the sport of Practical Shooting. Visit: www.STIguns.com