To Bear or Not to Bear: Guns in Educational Institutions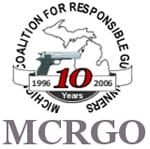 Michigan – -(Ammoland.com)- The Thomas M. Cooley Law Journal and the Cooley chapter of The Federalist Society are pleased to announce a jointly-sponsored symposium entitled "To Bear or Not to Bear: Guns in Educational Institutions."
The event is free and open to the public and will be held in the Auditorium on the 6th floor of Cooley's Temple Building located at: 217 South Capitol Avenue, Lansing, MI 49801 on Friday, February 4th from 1-4 p.m.
The list of presenters includes attorneys, professors, best-selling authors, and nationally-known experts on both sides of the gun control debate:
Dr. John Lott, Senior Research Scientist, UM, Author of "More Guns, Less Crime," and, "The Bias Against Guns."
James Manley, Mountain States Legal Foundation
Dennis Henigan,

Brady Center to Prevent Gun Violence

Josh Horwitz,

Coalition to Stop Gun Violence

John Johnson,

Campaign to Keep Guns of Campus

Professor Steven Dulan, Adjunct Professor, Cooley Law School, and member of the Board of Directors of MCRGO and the MCRGO Foundation.
The format will be a presentation/debate with time for audience questions. There is ample seating available and interested persons are invited to attend. Professional dress is not required.
NOTE: Cooley is a private institution which prohibits firearms on its premises.
About:
The Michigan Coalition for Responsible Gun Owners is a non-profit, non-partisan organization. Formed from just eight people in 1996, we now have thousands of members and numerous affiliated clubs across the state. We're growing larger and more effective every day.
Our mission statement is: "Promoting safe use and ownership of firearms through education, litigation, and legislation" Visit: www.mcrgo.org