Winchester Ammunition Presents Distributor Of The Year Award To Big Rock Sports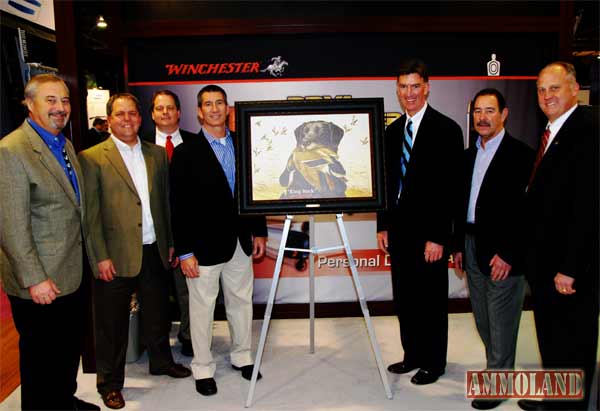 East Alton, IL – -(Ammoland.com)- Winchester Ammunition presented the 2010 Distributor of the Year Award to Big Rock Sports during the 2011 SHOT Show in Las Vegas.
Every year, Winchester Ammunition recognizes a distributor who sets a high standard of service to dealers, and displays its loyalty and support to Winchester Ammunition.
For several years, Big Rock Sports, headquartered in Newport, NC, has exemplified these high standards. However, this past year they've gone above and beyond all others to make them the ideal recipient and representative of the 2010 Winchester Distributor of the Year Award.
"The relationship between Winchester and Big Rock Sports is essential to our success; they bring tremendous value and service to the independent dealer base along with unique marketing concepts," said Brett Flaugher, Vice President of Sales and Marketing for Winchester Ammunition.
Big Rock Sports is one of the largest wholesalers in the country for hunting, fishing, camping and outdoor lifestyle merchandise, and every January holds two of the largest distributor shows in the country – – Big Rock West in Las Vegas, NV and Big Rock East in Raleigh, NC
"We are truly honored to be recognized as the Distributor of the Year by Winchester Ammunition," said Ed Small, CEO of Big Rock Sports. "Winchester has a proud tradition of providing dependable ammunition for its customers whether it's for hunting, personal defense or target practice. We are proud to work with them to ensure the future of the shooting sports industry will thrive for many generations to come."
Today, Big Rock Sports services more than 150,000 fishing, ice fishing, hunting, shooting, camping and marine retailers in all 50 states, the Caribbean and nine foreign countries.
To learn more about Big Rock Sports, visit www.bigrocksports.com.
Winchester Ammunition is proud to be a leader in conservation
Winchester Ammunition prides itself in being a leader of conservation. The company is involved with numerous partnerships at local, state and national levels. For more than 20 years Winchester has been a proud sponsor of Ducks Unlimited. During this partnership Winchester has generated generous funding to support Ducks Unlimited wetlands and waterfowl conservation projects. In addition Winchester is the exclusive sponsor of the Ducks Unlimited shooting program and supports many local and state chapters. For more information about Ducks Unlimited visit www.ducks.org.
For more information about Winchester and its complete line of products visit www.winchester.com. Releases and images can be found in the Press Room section.