Bushmaster to Offer Rifles Featuring GameGuard Camouflage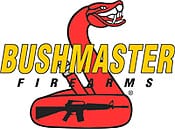 Overland Park, KS –-(Ammoland.com)- Bushmaster Firearms proudly announces they have entered into an exclusive agreement to manufacture AR style firearms featuring GameGuard camouflage.
As a way to launch the new venture, starting today consumers who purchase a Bushmaster GameGuard Predator rifle at AcuSport stores will receive a coupon valid for a free soft-sided rifle case. AcuSport, recognized nationwide as one of the leading distributors of outdoor and shooting sports products in the nation, will be offering consumers this exclusive package.
"We took on a personal challenge to develop a pattern that best fit the Texas and Southwestern United States landscape," stated Craig Smith – Founder of GameGuard Camouflage. "GameGuard has now become a well-recognized brand and we are excited about the opportunity to partner with Bushmaster to offer predator hunters a truly amazing product."
The Bushmaster Predator series of rifles were designed as a direct result of numerous requests by the hunters who wanted a slightly shorter barrel and lighter swing weight in a carry rifle for predator hunting/calling. The Bushmaster GameGuard Predator rifle features a 20-inch fluted match grade barrel and delivers all the accuracy you've come to expect from a Bushmaster.
Bushmaster GameGuard Predator Features:
The 20″ Bushmaster Barrel is fluted 4150 ChromMoly Vanadium Steel (non- chrome lined) with sharp 1 x 8" twist rifling for the heavier bullets typically used on bigger varmints and predators.
Features include a hybrid SAAMI Spec. chamber
Match Grade Competition Trigger (4 ½ lbs)
Vented Tubular Aluminum Free-Floater Forend with Bipod Stud
5 Round Magazine (legal for hunting in most States)
GameGuard Camouflage Finish
MSRP: $1459.00
About Bushmaster Firearms
Bushmaster Firearms International, LLC (BFI) is the leading supplier of AR15/M16 type rifles in the United States for Law Enforcement, security and private consumer use. Headquartered in Windham, Maine, with additional facilities in Dallas, Georgia and Lake Havasu, Arizona, BFI supplies aluminum and advanced carbon fiber-based rifle platforms in calibers ranging from 5.56mm/223 to 50BMG. These and associated accessories manufactured by BFI meet the tactical rifle needs of US customers as well as Military, Law Enforcement and Security clients from over 50 countries worldwide. Visit our web site at www.bushmaster.com