Charter Arms Joins Elite Sports Express and Takes to the Road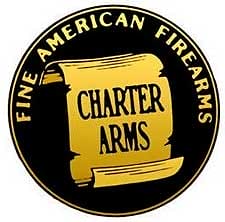 Shelton, CT –-(Ammoland.com)- For the next year, Charter Arms will visit 90 dealer stores across America as a sponsor of the Elite Sports Express 75-foot showroom on wheels touring the country.
Nick Ecker, president of Charter Arms personally selected twenty-nine of the company's most popular revolvers to be displayed for shooting enthusiasts and current owners of Charter Arm revolvers, who will have the opportunity to handle various models in-person at the kiosk.
For forty-seven years, Charter Arms has proudly manufactured a full line of revolvers in Shelton, CT, the heart of New England's Gun Valley by skilled American craftsman.
Ecker added, "It's exciting to bring a product, which is 100% American made and reliable to those customers looking to purchase a revolver for personal protection in their home or concealed carry purposes. Charter Arms products are currently touring the East and West coast showrooms, staffed by knowledgeable individuals on hand to educate the consumer in the revolvers features and the safe handling of firearms."
Lissa McCarthy, National Sales Manager commented "Touring both coasts of the country will provide Charter Arms customers with a large product display of various calibers and styles to select which Charter Arms revolver will fit their choice of carry. It's no surprise to us, the colored anodized frame models like the Lady Chic, Pink Lady or Cougar are getting the most attention. Women want to incorporate fashion when they carry and create their own personal statement. At Charter Arms, we pay close attention to our customers' requests and keeping them satisfied."
To plan which Charter Arms model will best protect your home and family, visit the Elite Sports Express calendar for a dealer location. http://www.elitesportsexpress.com/maps/events/schedule-event
Founded in 1964, Charter Arms manufactures a full line of revolvers made by professional, skilled American craftsmen in Shelton, CT, in the heart of New England's firearm valley. Steeped in rich tradition with unmatched customer service, Charter Arms revolvers are consistently associated with personal protection because of their strength, reliability and accuracy. All Charter Arms revolvers are covered by a lifetime warranty. For more information, visit http://CharterArms.com or call customer service at (203) 922-1652.