Smith & Wesson Welcomes Disabled Veteran To Shooting Team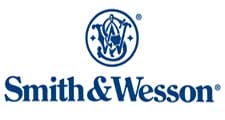 SPRINGFIELD, Mass.--(Ammoland.com)- Smith & Wesson Corp., announced today that Texas native Trevor Baucom, a former United States Army Chief Warrant Officer #3 (CW3) and Blackhawk helicopter pilot, has joined the ranks of Team Smith & Wesson as the Company's first disabled veteran shooter.
During a special ceremony in the Smith & Wesson booth at the National Rifle Association (NRA) Annual Meetings in Pittsburgh, Pennsylvania, Baucom will be introduced as the newest member of the team and will discuss his plans for competing in the upcoming NRA Bianchi Cup.
With a distinguished service record of 13 years in the United States Army, Baucom is pending a medical discharge after he was injured in a helicopter crash while serving in Afghanistan during his fourth deployment. The injury, which occurred during a nighttime assault mission, left the Blackhawk command pilot paralyzed from the waist down.
Once back in the United States, Baucom began his rehabilitation in Franklin, Tennessee, where he met "Shooting USA" host Jim Scoutten. From there, a friendship was formed and an idea spawned on getting Baucom introduced into the competitive shooting arena. With the help of industry partners Smith & Wesson, Safariland and Atlanta Arms & Ammo, the 31-year-old began training with the goal of taking on the courses of fire at the 2011 NRA National Action Pistol Championship, heads-up against able-bodied competitors.
"It's hard to put into words just how phenomenal this whole experience has been," said Baucom. "The support from the industry has been overwhelming and at times I find myself still trying to grasp it all."
In preparation for the NRA Bianchi Cup, Baucom has received instruction from one of the industry's top competitive shooters, Billy Abbate with Atlanta Arms & Ammo. During the competition, Baucom will be using a Smith & Wesson M&P9 Pro Series pistol that he has been training with extensively for the last month. While the NRA Bianchi Cup will be Baucom's first competitive shooting event, the avid hunter and recreational shooter is more focused on enjoying the experience than wondering what his score will be once the match has concluded. That being said, Baucom has an intense competitive drive and is training diligently to improve his x-count with each practice sessions.
"For me, this is all about breaking down barriers," said Baucom. "I have never been one to sit still for very long and this opportunity presents a unique challenge for me to push my abilities. I hope that my participation will lead to other wounded warriors taking an interest in competitive shooting and that more matches like the Bianchi Cup will take a look at how they can open up spots for other disabled shooters."
On Saturday, April 30, 2011 at 10 a.m. in the Smith & Wesson booth (#1713), Trevor Baucom will be officially introduced as part of Team Smith & Wesson. Team Captain Julie Golob will be on site to present Baucom with his official team shirt and there will be opportunities to take photos of the newest team member and his gear. Please make plans to stop by the Smith & Wesson booth at that time and give your support to Baucom as he prepares for his upcoming match.
About Smith & Wesson
Smith & Wesson Holding Corporation (NASDAQ: SWHC) is a U.S.-based, global provider of products and services for safety, security, protection and sport. The company designs and constructs facility perimeter security solutions for military and commercial applications, and delivers a broad portfolio of firearms and related training to the military, law enforcement and sports markets. SWHC companies include Smith & Wesson Corp., the globally recognized manufacturer of quality firearms; Smith & Wesson Security Solutions, a full-service perimeter security integrator, barrier manufacturer and installer; and Thompson/Center Arms Company, Inc., a premier designer and manufacturer of premium hunting firearms. SWHC facilities are located in Massachusetts, Maine, and Tennessee. For more information on Smith & Wesson and its companies, call (800) 331-0852 or log on to www.smith-wesson.com; www.tcarms.com or www.waltherusa.com.