GunsForSale.com Giving Away a KRISS Vector CRB Carbine Valued at $2,779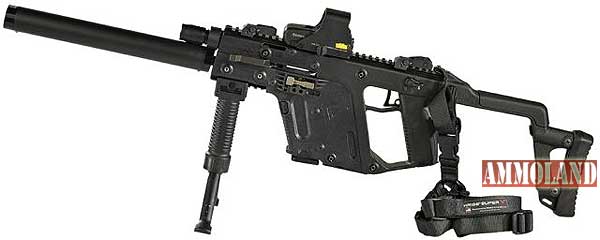 Dallas, TX –-(Ammoland.com)- Each month, GunsForSale.com sponsors a FREE gun and ammo contest.
To participate, all you have to do is sign up for their Monthly Prizes & Special Deals Newsletter located here and once you are signed up you're automatically entered to win future contests. www.gunsforsale.com/contest
The monthly contests launched back in March 2011 and previous prizes have included a Sig 522-22 LR, 500 rounds of Sellier & Bellot 9mm ammo, a Ruger SR40, and just last month everyone was a winner and received a coupon code for $25 off an order of $300 or more!
For the June 2011 prize, GunsForSale.com has teamed up with KRISS USA to give one lucky winner a FREE KRISS VECTOR CRB WITH TACPAC retailed at $2,779!
Known by KRISS USA as "the world's lightest, most controllable and most accurate carbine", this model's Super V System technology eliminates the felt recoil while stabilizing the muzzle. Included with the prize is the following:
KRISS Vector CRB 16 '' carbine
1 – 13 round Glock 21 mag
Flip-up iron sights
Mini-cleaning kit
Cable lock
Single point tactical sling
Integrated Flip Pod GPS02
Surefire E1B tactical light with momentary switch
EOTech 512 A65 holographic sight
The contest ends June 30th 2011 and the winner will be announced via an emailed Newsletter. Once you've signed up you must stay subscribed to be eligible to win. You are automatically entered to win future GunsForSale.com prizes and deals as long as you remain subscribed to the newsletter list.
GunsForSale.com also sells popular in stock revolvers, pistols, rifles and shotguns as well as handgun, rimfire, rifle, and shotgun ammunition. Also be sure to check out their reloading components, accessories, and optics when you visit the site. You only have 17 more days to sign up for a chance to win a FREE KRISS VECTOR CRB WITH TACPAC retailed at $2,779 so make sure to go here and sign up today!
GunsForSale.com – www.gunsforsale.com
Phone – 800.305.0359
Fax – 800.890.6776
E-mail –
[email protected]
Snail Mail – P.O. Box 660675, Dallas, TX 75266-0675
About GunsForSale.com:
GunsForSale.com is a leader in the online sale of firearms, ammunition and accessories. The staff of GunsForSale.com is committed to earning a customer's business through service and hard work. GunsForSale.com is constantly expanding their inventory of guns, ammunition and firearms.