Ohioans For Concealed Carry Calls for Resignation of Schulman & Harless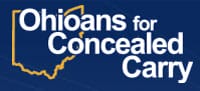 Ohio –-(Ammoland.com)- Founded in 1999, Ohioans for Concealed Carry is one of the largest civil rights organizations in Ohio, serving the state's 210,000 concealed carry licensees.
We have worked successfully with Ohio's legislators and governors for more than 10 years to ensure that all Ohioans are able to safely and lawfully protect themselves and their families.
Today, OFCC calls on Allen Schulman and Daniel Harless to immediately resign from their positions as president of the Canton City Council, and member of the Canton Police Department, respectively. Their recent conduct demonstrates that they are no longer worthy of the public trust.
Schulman recently refused to denounce the unlawful behavior of police officer Daniel Harless, who threatened an unarmed, handcuffed citizen with execution (video here). Harless also threatened to "blast in the mouth," "cave in [the citizen's] head," and "step back and put 10 rounds in ." By remaining silent during one of the worst cases of police abuse in recent U.S. history, Schulman has given the unmistakable impression of protecting – and even condoning – his employee's behavior. Moreover, Schulman's arrogant silence during this tragedy has set off a chaotic loss of public confidence in Canton's police force – a dangerous scenario and threat to public safety.
In remarks to WHLO News (audio here), Schulman announced his contempt for Ohio state law that guarantees the basic human right of self-defense. Firearm laws that allow licensed, law-abiding citizens to protect themselves and their families in dangerous locations are "not acceptable in our society," he said. We believe that his contempt for the right of self-defense is morally identical to a hatred of the free practice of religion, or an attack on the right of journalists to report news and opinion at will. All these activities are Constitutionally enumerated rights; an elected official who discloses their contempt of a basic human right is unfit for public office in the United States and should be removed forthwith.
Over the past several days, the behavior of Harless has been roundly condemned by civil rights leaders, attorneys, law enforcement officers and administrators, law professors, news commentators, and ordinary citizens across the country; Schulman, too, has frequently been named.
We are dismayed that City of Canton leaders have not responded to this crisis with the urgency it demands, and that organizations like ours have to call for decisions to be made.
Schulman and Harless should resign immediately.
We hope that these changes will at once bring renewed stability, and accountability, to the City of Canton.
About:
Ohioans for Concealed Carry, founded in 1999, is a grassroots political activist organization. When founded, the primary goal of OFCC was getting concealed carry passed into law in Ohio. With that accomplished, our mission became to refine the concealed carry law and to expand and preserve the rights of all gun owners in Ohio. Visit: Ohioccw.org