ARMED AMERICAN RADIO Adds New Michigan Affiliate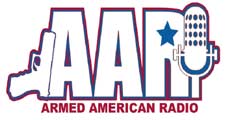 Atlanta GA –-(Ammoland.com)- Nationally syndicated Armed American Radio continues its unprecedented growth across the nation's airwaves this week with the addition of WPNW 1230 AM-"The Pledge" in Holland Michigan.
Syndicated host Mark Walters said, "The addition of WPNW in Holland brings AAR to three great cities in Michigan as we continue our rapid expansion across America.

WPNW listeners are able to fill their prescription for freedom along with listeners in the Detroit and Lansing areas. Now ten years as a "shall issue" state, Michigan CCW holders and gun owners are quickly finding their home on the radio dial starts and ends with Armed American Radio".
Adding affiliate stations at an unprecedented pace since its syndication less than two years ago, AAR now airs in dozens of markets across America from Florida to Alaska every Sunday evening from 8-11pm ET, 5-8 pm PT and is the fastest growing nationally syndicated, pro-gun radio broadcast in America.
Focusing on the right to carry a firearm, Mark Walters and the Armed American Radio Network bring listeners the news, information and truth about the right to carry that the mainstream media simply ignore!
For more information, or to schedule an interview, please contact:
Mark Walters
Host
Armed American Radio Network www.armedamericanradio.com
[email protected]
386-AAR-Mark (386)-227-6275
Armed American Radio is syndicated on the Salem Radio Network. For media kit information, please visit www.srnonline.com/talk/talk-walters.shtml
About:
Armed American Radio is the most free-thinking, politically incorrect radio station in the U.S.A. We discuss liberty, self-defense, weapons, family, friends, and life. Visit: www.Armedamericanradio.org