NSCA Joins SCI Foundation and QU in Sponsoring EPIC Outdoor Game Fair
3-Day Atlanta Event Will Provide Hands-on Outdoor Opportunities to Families, Introduce Sporting Clays to New Shooters.
San Antonio, TX –-(Ammoland.com)- Exposing new generations to the shooting sports and an active outdoor lifestyle is one of the greatest obstacles to the growth of our sports, and the National Sporting Clays Association (NSCA) has joined with some of the most dedicated advocates in the outdoors to address that challenge.
The NSCA will be a sponsor of the EPIC Outdoor Game Fair, a three-day outdoor event focused on Education, Participation, Instruction, and Competition for the entire family, planned for September 23-25 near Atlanta, Georgia.
EPIC Outdoor Game Fair Logo Created and hosted by Safari Club International Foundation and Quail Unlimited, the EPIC Outdoor Game Fair will feature activity villages in a host of categories, including shooting, archery, fishing, canines, ATVs, birds of prey, equestrian, and boating. Activities will be geared to both children and adults, beginners and experienced. Guests can also enjoy live music, exhibits, seminars, and a variety of performers.
Foxhall Resort & Sporting Club near Atlanta will be the venue for the event, debuting its new Marty Fischer-designed, 15-station sporting clays course. During the Game Fair, shooters may experience the wobble trap, 5-stand, or full sporting clays course. New shooters can get an introduction to shotgunning from a professional instructor. Wobble trap shooting is sponsored by Beretta and, as with most activities, is included in the daily Game Fair pass. NSCA members shooting the 100-target course may choose to have their targets registered as monthly targets.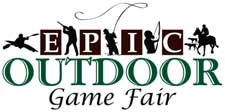 In addition to opportunities to shoot, guests can enjoy exhibitions by some of the most exciting shotgunners in the world. Xtreme Sport Shooter Patrick Flanigan will bring his energetic and entertaining show to the Shooting Village, as will Benelli shooter Scott Matthews. Olympic gold medalist and international shotgunning superstar Vincent Hancock will also be on hand for exhibition shooting and autographs.
As a sponsor, NSCA is providing Certified Instructors for new shooters, as well as exhibiting and providing expertise for the Shooting Village. "The National Sporting Clays Association is very excited to be a part of the 2011 EPIC Outdoor Game Fair," said Robert Crow, NSCA Director. "This event is a perfect opportunity for the NSCA to introduce new shooters, long-time hunters, and other outdoorsmen to the exciting game of sporting clays. Thousands of people who enjoy the outdoors but have never shot sporting clays will be at the Game Fair. We want to show them how much fun the game is, and our highly-qualified instructors can give them just the kind of introduction to sporting clays that will make them want to shoot again."
Safari Club International Foundation president Joe Hosmer welcomed NSCA as a sponsor, noting that National Hunting and Fishing Day occurs during the Game Fair. "What better time to be introduced to shooting than on Hunting and Fishing Day, and what better way to be introduced to shotgunning than through the experts of NSCA!" commented Hosmer. "Many of us who aren't competitive shooters but hunt and travel with shotguns in pursuit of upland game and waterfowl already have a kinship with NSCA shooters. And," Hosmer added, "the NSCA mission, which includes 'to create an atmosphere of healthy competition and meaningful fellowship,' is spot-on for this EPIC Game Fair."
Among the other sponsors of the Game Fair are Orvis, Eukanuba, Winchester, Beretta, Crosman, General Motors, Rigby, Mossy Oak, Shooting Sportsman magazine, Laser Shot, Kevin's Catalog, Earthquest, Gilchrist Club, and Safari Club International.
Full information on each of the activity villages, exhibitions, seminars, entertainment, sponsors, and more can be found at EPICGameFair.org or on the Game Fair's Facebook page, Facebook.com/EPICOutdoorGameFair. Discounted advance-purchase tickets are also available on the site.
About:
The National Sporting Clays Association is the official governing and sanctioning body of Sporting Clays in the United States. Headquartered at the National Shooting Complex in San Antonio, it is the world's largest Sporting Clays organization, with members in all 50 states and 10 foreign countries. To locate NSCA member clubs in your area or for more information on the National Sporting Clays Association, visit our website at www.nssa-nsca.org
Safari Club International Foundation (SCIF) is a 501(c)(3) charitable organization that funds and manages worldwide programs dedicated to wildlife conservation, outdoor education, and humanitarian services. Since 2000, SCIF has provided $47 million to these causes around the world. Visit www.safariclubfoundation.org for more information.
Quail Unlimited is the oldest national, nonprofit conservation organization dedicated to the management of America's wild quail. Known as "America's Leader In Quail Conservation," its overall vision is to restore America's quail populations for future generations through wise stewardship of the land and its resources. See www.qu.org to learn more.