California Rifle and Pistol Association Monthly Report for August 2012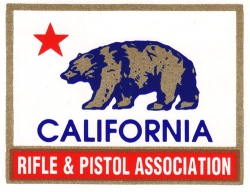 Sacramento, CA –-(Ammoland.com)-CRPA Executive Director and President's Monthly Report for August 2011
Executive Director, John Fields and CRPA President, Tony Montanarella report on:
Director's Board Meeting
Legislature: SB 819 and AB 144
AR -15 Project
Sportsmens Business Alliance
CORONA 210 September 17-18
CRPA's Annual Gala
You can also leave us a message! Please call (714) 992-2772 and leave a brief message with your name and phone number, or you can contact us through our website at www.crpa.org.
We thank you for your understanding and cooperation and we hope you have a safe and wonderful 4th of July weekend!
Sincerely,
The CRPA Staff
About:
The California Rifle and Pistol Association "CRPA," founded in 1875, is dedicated to defending the rights of law-abiding citizens to responsibly use firearms for self-defense and the defense of their loved ones, for sport, and for all other legal activities. CRPA is the official state association of the National Rifle Association. A California non-profit association, CRPA is independently directed by its own Board of Directors. CRPA's members include law enforcement officers, prosecutors, professionals, firearm experts, the general public, and loving parents. CRPA has always worked to reduce the criminal misuse of firearms and firearms accidents, while actively promoting and organizing the competitive shooting sports and Olympic training programs in California. We are proud to say that many CRPA competitors are among the best in the world. Visit: www.crpa.org