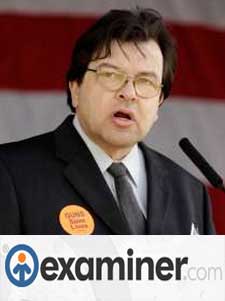 USA –-(Ammoland.com)- "'Bullet Button' Used To Get Around California Gun Laws," CBS 5 San Francisco reported Tuesday.
"CBS 5 went undercover to a recent gun show at the Cow Palace in Daly City and found 'California legal' assault rifles throughout," they claim.
It's a non-story, really, as their undercover team found nothing illegal—they weren't even looking for that—or that couldn't have been obtained openly. The entire purpose of the "investigation" appears to be to gin up public frenzy about a legal device that allows for changing magazines on semi-automatic firearms that comply with California's specific model and cosmetic features bans.
"I've emailed the gun show proprietors and asked them if they post signs prohibiting unauthorized photographs and recording of patrons and dealers," this columnist noted on The War on Guns blog. "I also note the covert video includes audio, and California appears to be a two-party consent state, which raises the question of whether or not our intrepid 'undercover reporters' were the only lawbreakers in the room–funny, though, how they choose not to do covert ops against the population causing all the 'gun' problems. "
Continue reading on Examiner.com http://www.examiner.com/article/cbs-intentionally-violated-posted-gun-show-rules-phony-undercover-stunt
About David Codrea:
David Codrea is a long-time gun rights advocate who defiantly challenges the folly of citizen disarmament. He is a field editor for GUNS Magazine, and a blogger at The War on Guns: Notes from the Resistance. Read more at www.DavidCodrea.com.