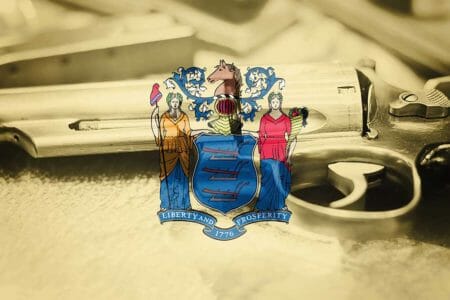 Charlotte, NC –-(Ammoland.com)-  Last week New Jersey Assembly Law and Public Safety Committee considered Assembly Bill 1216, legislation that would increase the penalty for possession of a "firearm" on the grounds of an educational institution, raising it from a third-degree crime to a second-degree crime.
This committee passed this unnecessary legislation by a 7 to 4 party-line vote.
Sponsored by Assemblyman Linda Stender (D-22), A1216 would increase the penalty for having a firearm or weapon on the grounds of an educational institution from a third to a second-degree crime.  Second-degree crimes carry a prison sentence of five to ten years and/or a fine up to $150,000, with no opportunity for New Jersey's "pre-trial intervention" leniency program, and very limited sentencing discretion by the judge.
Stender attempted to address some gun owner concerns by offering last-minute amendments to exempt possession of BB guns and air guns from the Draconian penalties in A1216.  But no protections were added to protect holders of firearms identification cards or hunting licenses who still remain at risk of lengthy prison sentences for innocent mistakes under this ill-conceived legislation.
Firearms possession for an unlawful purpose is already a second-degree crime in New Jersey, so this legislation adds nothing except excessive punishment for innocent mistakes.
The following Assemblymen voted AGAINST A1216:
Erik Peterson (R-23)
David P. Rible (R-30)
Sean T. Kean (R-30)
Gregory P. McGuckin (R-10)
The following Assemblymen voted FOR A1216:
Nelson Albano (D-1)
Daniel Benson (D-14)
Sean Connors (D-33)
Joseph Cryan (D-20)
Charles Mainor (D-31)
Bonnie Watson-Coleman (D-15)
Gilbert Wilson (D-5)
---
About NRA-ILA

Established in 1975, the Institute for Legislative Action (ILA) is the "lobbying" arm of the National Rifle Association of America. ILA is responsible for preserving the right of all law-abiding individuals in the legislative, political, and legal arenas, to purchase, possess and use firearms for legitimate purposes as guaranteed by the Second Amendment to the U.S. Constitution. Visit: www.nra.org