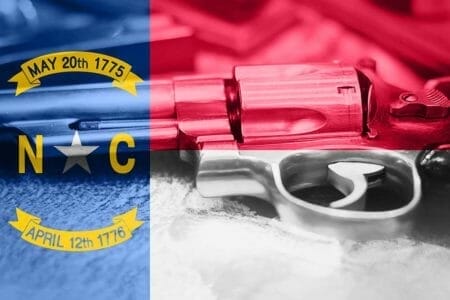 Charlotte, NC –-(Ammoland.com)-  Once again, the anti-gun media has put law-abiding gun owners at risk.
WRAL.com, the online media outlet for the Raleigh-Durham-Chapel Hill Triangle's WRAL television station, recently published a "news" article about the number of Right-to-Carry permit holders in various counties of North Carolina.
Unfortunately, this article provided an opportunity for the executive director of North Carolinians Against Gun Violence to imply that law-abiding permit holders may not be safe and responsible.  This anti-gun group is opposed to expanding the right of self-defense in North Carolina and is even promoting legislation that would curtail that right.
Not only did this article include a link to a biased anti-Right-to-Carry article run by the New York Times last year, but it also included access to a searchable database of Right-to-Carry permit holders.  This database allows anyone to search for permits in the viewing area of the outlet's television news broadcast.  The database does not appear, at first glance, to include actual names or addresses of permit holders.  However, it does narrow the search down to the actual street on which permittees live.  This should be of concern to gun owners, particularly those who live on a street with few houses that could be targeted by criminals looking to steal firearms.
Also troubling are reports that WRAL's database has "accidentally" allowed some permit holders' addresses to appear.  This article presents a sound argument for restricting access to information about and protecting the privacy of law-abiding permit holders.
With the North Carolina General Assembly out of session, the NRA will seek the introduction of legislation that would provide confidentiality for permit holders when the legislature reconvenes next year.  Honest North Carolinians who have chosen to acquire a Right-to-Carry permit should not have their privacy invaded by anti-gun groups and media outlets.
---
About NRA-ILA

Established in 1975, the Institute for Legislative Action (ILA) is the "lobbying" arm of the National Rifle Association of America. ILA is responsible for preserving the right of all law-abiding individuals in the legislative, political, and legal arenas, to purchase, possess and use firearms for legitimate purposes as guaranteed by the Second Amendment to the U.S. Constitution. Visit: www.nra.org