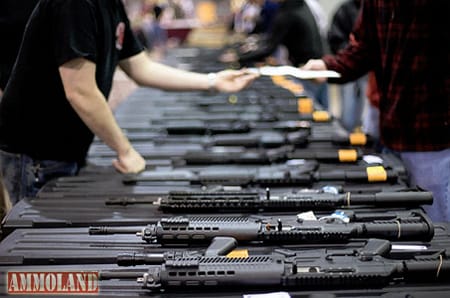 New Jersey –-(Ammoland.com)- I would like to extend my thanks to all those who helped with the events over the past few months.
Many members have taken time away from their weekends to help run tables and spread the word about NJ2AS.
Since September NJ2AS has had a presence at the Wild Outdoor Expo, NJ Decoy and Gun show, The Oaks gun show in Philadelphia, The Mount Bethel Fire Department Gun show, CJRPC Wounded Warrior, and the Ruger match at the SJSC. These events have been a huge success, and have helped us increase both awareness and membership.
We would like to continue our presence at these events and we need your help to do it.
We have 3 events left in 2012 and 5 so far for 2013.
Forks of the Deleware Historical Arms Society Allentown PA Dec 1-2
Mt. Bethel Gun Show Dec 9th
Oaks Gun Show Dec 14th – 16th (this show starts on a Friday)
Garden State Outdoor Sports Show Jan 10-13th (this show starts on a Thursday)
Middletown NJ Gun Show Feb 16th
Some members have asked about announcing these events sooner and we are working on this. We have some events announced through Nov of 2013 and will keep updating as the organizations announce their 2013 event dates.
We hope you will be able to help out. You can ask the people who helped at the events over the last few months. – they are a lot of fun and there is a tremendous feeling of satisfaction that comes with being an integral part of helping to further the mission of your Society. It is also a FANTASTIC way to really get to know your fellow (and gal) volunteers. If you are able to help, please send an email to [email protected]
Thank you all for your support. James Kaleda
About:
New Jersey Second Amendment Society – Our mission is to promote the free exercise of Second Amendment rights within the community and Legislature of New Jersey, to educate the community regarding the enjoyable, safe, and responsible use of firearms, and to engender a sense of camaraderie and fellowship among the members and their families. Visit: www.nj2as.com