An ABC News poll found that almost three-fourths (75%) of the American public believes that the Second Amendment of the U.S. Constitution protects the rights of individuals to own guns.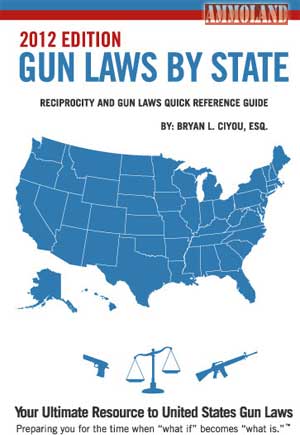 Indianapolis, Ind. –Much to the chagrin of some gun-control proponents, firearms in America have reached a cultural mainstream not seen since America's founding. The Bureau of Alcohol, Tobacco, Firearms and Explosives (ATFE) statistics reveal firearm ownership at an all-time high, while Federal Bureau of Investigations (FBI) statistics reveal violent crime rates are reaching all-time lows.
A first-of-its-kind book, Gun Laws by State – Reciprocity and Gun Laws Quick Reference Guide, 2012 Edition, provides the most updated, comprehensive, and affordable firearm law resource available to everyone via the Internet, eReader, and hard copy.
"It's pretty obvious that Americans by and large embrace their firearms," said noted firearm attorney and author Bryan L. Ciyou. "We have hit television shows promoting designer guns and shooting competitions and industry market trends reveal women are the fastest growing demographic of new firearm purchasers."
Americans also largely reject calls to add new gun laws to the already 10's of thousands of firearm regulations across the country, even in the wake of recent events such as the Colorado movie theater and Wisconsin Sikh Temple shootings this summer.
"With so many different gun laws and policies criss-crossing the country, it's difficult for lawful gun owners to understand and comply with these local, state, and federal laws. It really is difficult if not impossible to comply with all of the firearms laws by doing your own research and even technical violations result in criminal arrest, confiscation and/or a civil suit costing tens of thousands. That's why I wrote a national firearms law review," explains Ciyou.
A noted gun law resource, Ciyou turned his boyhood interest in firearms into a devoted subject of his legal career. Having become the "go-to guy" for police officers and judges regarding various and complicated questions about guns and gun law, Ciyou put his knowledge to work and penned a trio of books including Indiana's Firearms Law Reference Manual.
Now, having spent nearly a decade researching and writing about firearms law, Ciyou has released the 2012 edition of Gun Laws by State to provide the average American citizen with the knowledge needed to lawfully transport a gun between states or to carry a gun in another state with reciprocal licensing.
This no-nonsense, non-propaganda look at the laws and reciprocity of the fifty states within the federal framework also offers an apolitical, historically-based explanation of the intent, implementation, and current regulation of American firearms for American firearm owners.
Finally, the book covers state laws as well as key federal laws that apply in federal buildings, airports, national parks, and school zones. Specifically, it covers Constitutional law, federal statutory law, state firearm preemption, use of force, criminal provisions, and civil and criminal liability.
To watch an interview with Bryan, visit https://youtu.be/_2WRx0iLQGM.
"Finally! A comprehensive gun law resource for all 50 states and much more. Having bought other gun law guides year after year and knowing there was 'more' info one needed to know to remain fully compliant in buying and carrying a firearm lawfully, I took a chance on this book to see if it could fill that void. And boy did it deliver…I'll be buying this book every year now." – Review by Elmore's Firearms
Author: Firearms attorney Bryan L. Ciyou handles a wide spectrum of cases that fall under the umbrella of firearms law and has published three books besides Gun Laws by State on gun laws that are in daily use as reference guides by law enforcement, attorneys, and citizens who want to understand and follow the law. He gives presentations on state and federal gun laws to groups ranging from conservation clubs to police officers who desire analysis of current legal issues. In addition, he has testified about gun law and been involved in its development with various governmental bodies. He has also taught legal components of firearms classes for several national and international trainers, including John Farnham and Massad Ayoob.