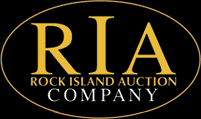 Rock Island, IL –-(Ammoland.com)-  Just a quick sampling of the extensive nature of this grouping is that it spans some of the earliest M1911, U.S. Army contract pistols such as the super rare 1912 Colt U.S. Navy contract pistol (lot 1856), the unique and equally rare Remington-UMC contract M1911 (lot 1865), we then have several all original mid and late WWI all blued U.S. Army contract pistols.
Then there is a post- WWI 1924 dated Colt M1911 transitional pistol (lot 1853). The grouping then shifts to an early pre-WWII Colt M1911A1 "CSR" inspected M1911A1 (lot 3650), numerous examples of standard, WWII M1911A1 U.S. Army contract pistols as manufactured by the Remington-Rand, Ithaca and US&S companies.
Which also include two super rare WWII M1911A1 "Presentation" pistols; one is a Union Switch and Signal (US&S) serial number "XP#11" (lot 1855) that is accompanied by a letter from the noted author and M1911A1 authority Charles Clawson. The second one an equally rare Ithaca Manufactured M1911A1 pistol, also a WWII Presentation pistol, that was specifically presented to Captain Sheldon Smith that carries serial number "XP#1", (lot 1852).
Next we transition into a large grouping of all original Colt Commercial M1911 and M1911A1 pistols, both pre and post-war versions with many boxed examples. Next we have ten of probably the best pre and post WWII Colt "38 Super" automatic pistols, we have ever had the opportunity to offer for sale. This being two "First Year" Colt 38 Supers, one (lot 3612) still in its original Colt factory box, several late pre-war standard Colt 38 Supers with several post WWII Colt 38 Super automatics, with some still in their original Colt factory boxes.
This large grouping also includes one of the rarest and best contraction, all original, documented WWII U.S. Army contract M1911A1 boxed "38 Super" automatic pistols. This specific pistol is noted as being the "Lost" 38 Super , as it was one of "3" pistols documented in the new book on Colt 38 Super automatics as being unknown to the collecting community until just recently discovered. We also have several original boxed Colt M1903 General Officers pistols, as issued from WWII and later.
Rock Island Auction Company has also assembled one of the largest selections of U.S. related Military rifles and pistols to include, two early M1907 Savage 45 ACP "Test" pistols, (lot 1863 and lot 3631) that were specifically developed and tested for the early U.S. Ordnance board 1909/1910 pistol trials, that later resulted in the Colt M1911 being adopted by the U.S. Army.
This December auction also includes two extremely rare all original, early Vickers & Armstrong Pederson rifles, (lot 1801 & lot 3657) chambered in the scarce .276 Pederson cartridge, which was one of only 200 rifles actually produced and tested against the early M1 Garand rifle in 1927. Lot 1803 is an ultra-rare original WWI era 1918 mark I Remington-Pederson device for the Model 1903 Springfield rifle. Also included in this auction is a fantastic all original, unaltered, early Springfield Model 1903 "Rod Bayonet" rifle serial number "24".
This beautiful rifle has all the original early features and still retains its original parts, never having been messed with or altered, truly an extremely rare rifle to find today as it is estimated that way less than 100 even exist today with most examples of this quality being in private collections or museums. This auction also features a grouping of original 1903 Springfield NM type service rifles.
This includes two beautiful, early NM examples (lot 1811 and lot 363) produced in 1936 and 1937, that include their original DCM (not CMP) supporting documentation, original Springfield Armory test targets and star-gauge cards. We also have in this auction a beautiful example of a M1903 NM/USMC, M1942 Sniper rifle (lot 3655) that has been fitted with an original WWII Issue USMC marked Unertl Sniper scope. We also have several original M1903 NRA Sales rifles and M1903 NRA Sporting rifles.
We cannot encourage you enough to come and see this spectacular collection and many more this November 30th, December 1st and 2nd.  Our sale contains something for virtually everyone and covers the entire spectrum from antique black powder arms to Class III Items. Our catalog is available online for free, or we can ship you one today, just complete the online order form, call 1-800-238-8022, fax 1-309-797-1655, or e-mail of [email protected] We look forward to any inquiries, and hope to see you at the sale!
About:
Rock Island Auction Company has been solely owned and operated by Patrick Hogan. This company was conceived on the idea that both the sellers and buyers should be completely informed and provided a professional venue for a true auction. After working with two other auction companies, Mr. Hogan began Rock Island Auction in 1993. Rock Island Auction Company has grown to be one of the top firearms auction houses in the nation. Under Mr. Hogan's guidance the company has experienced growth each and every year; and he is the first to say it is his staff's hard work and determination that have yielded such results. Visit: www.rockislandauction.com