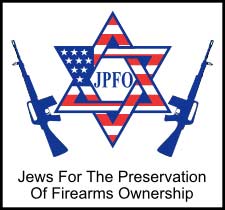 Washington, DC –-(Ammoland.com)- This new article is intriguing, as it is written by a financial trader!
As most might know, trading involves strategies and this writing is no exception, it's just that strategies are applied to data sets concerned with "gun control" and its effects.
The author chooses two opposites by analyzing the UK vs Switzerland.
"Have you ever had a strategy you just knew would work, but when you applied it, despite your strong belief that it would work, it just fell flat?"
As an addition in this alert we include another "letters to the editor" category short item "Media and Tragedy" – looking at the media in the light of the Newtown tragedy as well as other observations.
"To legally own a firearm or to not own one IS our right, and it SHOULD remain that way."
About:
Jews For The Preservation Of Firearms Ownership Mission is to destroy "gun control" and to encourage Americans to understand and defend all of the Bill of Rights for everyone. Those are the twin goals of Wisconsin-based Jews for the Preservation of Firearms Ownership (JPFO). Founded by Jews and initially aimed at educating the Jewish community about the historical evils that Jews have suffered when they have been disarmed, JPFO has always welcomed persons of all religious beliefs who share a common goal of opposing and reversing victim disarmament policies while advancing liberty for all.
JPFO is a non-profit tax-exempt educational civil rights organization, not a lobby. JPFO's products and programs reach out to as many segments of the American people as possible, using bold tactics without compromise on fundamental principles. Visit www.JPFO.org – Copyright JPFO 2011