DANVILLE, Ala. –-(Ammoland.com)- Hunter Safety System has introduced the HSS-Elite Series vest, a newly engineered treestand safety harness that perfectly fuses the elements of form and function in a high-performance zippered vest.
The Elite bucks the notion that, in order to save your life, safety vests have to be bulky, uncomfortable and seriously lacking in the fashion department. Weighing less than 3 lbs., the fully featured Elite is surely destined to become a favorite for all-season hunting.
Starting with the patented HSS system harness that eliminates dangling straps and weave-through buckles, the Hunters Safety System engineers gave the Elite a newly designed tether strap that is lighter yet provides more shock absorption than previous model tethers.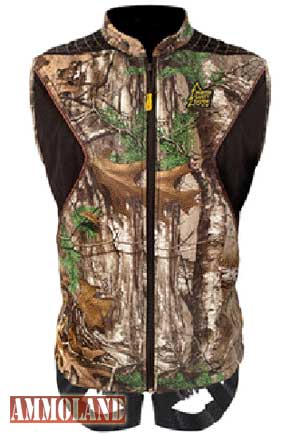 Then, they wrapped the harness in a combination of high-performance smart fabrics that are durable and silent.
The Elite design provides an easy-out, two-way zipper that protects the waist buckle and eliminates the possibility of binoculars or other accessories knocking against it. Its lightweight, brushed micro-tricot shell is deadly quiet, weather resistant and provides just the right amount of warmth when the temperature drops. The stretchable material in the Right-Fit zone is designed to keep the Elite snug and smooth, no matter your size, and the shoulders feature a unique silicone print that keeps backpacks and slings from slipping while walking in the field. The Elite is lined with HSS's own Comfort Cool fabric that wicks moisture when the heat is on.
The exclusive Six-Plus-Two pocket design features two large bellows pockets with magnetic closures, two divider pockets to keep gear separated and quiet, and two quick-access pockets provide instant access to items like cell phones or mouth calls. The unique "plus-two" zippered pockets in the upper portion of the vest house removable binocular/accessory straps, or they can serve as another set of easy-access security pockets.
Donning the Elite is incredibly easy. Simply put the Elite on as you would any other vest, connect the waist buckle, route the leg straps between the legs, connect the Power Lock buckles on the leg straps, and then zip it up. Attach the tether to the Prussic knot on a LifeLine, and you're ready to climb.
Hunter Safety system is proud to offer the new HSS-Elite in Realtree Xtra, one of the most innovative patterns available today. The extremely comfortable and functional Elite will be available at most fine outdoor retailers with a suggested retail price of $159.99.
Founded in 2001 and headquartered in Danville, Ala., Hunter Safety System is a leading designer and manufacturer of innovative deer hunting gear and hunting equipment for the serious hunter. For additional information, write to: The Hunter Safety System, 8237 Danville Road, Danville, AL 35619; call toll-free 877-296-3528; or visit www.huntersafetysystem.com.