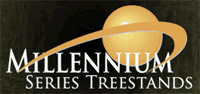 Pearl, Mississippi –-(Ammoland.com)-  The innovators at Millennium have done it again. However, this time, they are catering to those of you who like to keep your feet on the ground.
Turkey hunters take notice.
Designed for multi-season use, the M300 Tree Seat will provide you with a more comfortable sit than you ever thought possible when waiting for that longbeard to approach. Featuring aluminum construction and weighing in at 4 pounds, the M300 comes with a convenient carrying strap and features the comfort level and quality that only a Millennium product can offer.
Simply attach the M300 to the tree at the desired height keeping cover and terrain in mind. Once set in place, this seat is secure, silent and extremely comfortable. You'll keep your tailfeathers dry and avoid pesky insects in the M300. What more could you want?
Should you need to move quickly, simply unstrap it, throw it over your shoulder and you're off to the next setup.  Before you start turkey hunting this spring, do yourself a favor and purchase a M300. You'll be glad you did.
For more information visit them online at www.millenniumstands.com