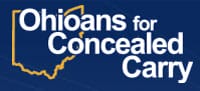 Ohio –-(Ammoland.com)- Over the past 72 hours Ohioans For Concealed Carry has sent out a handful of updates about HB495, and in our last update some of our friends and followers became confused by the fact that we asked you to oppose something that many of you could not find in the bill.
Allow us to explain: HB495 was in a senate committee where members of the committee may make amendments to the bill. Those amendments are simply not available online anywhere because they're proposed ideas that a majority of the committee must agree to adopt or defeat. If they adopt amendment the bill text as you can read it on the Legislature's website is modified and the bill is sent to the floor of which ever body is considering the bill. In this case that is the Ohio Senate considering a bill the Ohio House started. (Hence the name HB495)
Ohioans For Concealed Carry knew of at least two amendments that were coming with no opposition – and those were adopted. What we had asked those of you reading these alert emails to do was to oppose an effort to add language to HB495 that would severely limit how an Ohio resident could carry concealed in Ohio.
Simply put, if you were an Ohio resident with a non-resident license to carry concealed you could find yourself unauthorized to carry in Ohio. The complexity of this 11th hour amendment is horrific to those of us who have seen the best intentions go very wrong. Consider the new Ohio resident from Florida who doesn't know better, or the police officer who doesn't know how to determine if you're technically permitted to carry – so he simply arrests you.
Many readers of these alerts flooded us with emails such as "Did you even read the bill?" and "I don't see what you're talking about" — We apologize for not making it abundantly clear that this was an amendment we knew was being proposed and that the intent was for those of you to help us kill that amendment.
Thankfully, we were successful. However, the job is simply not done. There is an 11th hour concern that this legislation may simply die in the Ohio Senate and we need your help. Please, whatever you do Thursday morning, pick up your phone and make two phone calls:
1. Call your elected Ohio Senator and ask them to pass HB495 without further limiting the right to carry. Use https://legislature.state.oh.us to identify your Senator right now.
2. Call the Ohio Senate President Thomas Niehaus' office at (614) 466-8082 and identify yourself as a member or supporter of Ohioans For Concealed Carry. Ask his office politely to pass HB495 in Thursday's session without further limiting the right to carry.
Finally, when you're done making those calls, head over to our website and read OFCC Director Gary Witt's excellent re-cap of the events that transpired in the Statehouse Wednesday – we have included copies of the amendments that were adopted by the committee.
2013 FUN 'n GUN ANNOUNCED!
Early Bird Discount Through Christmas Day!
It is with great pleasure that we are able to announce the 9th Annual Fun 'n Gun will be held on Saturday May 4th, 2013 at the Rochester Rod & Gun Club.
Rochester is in Lorain County, so if you're in the Northern part of the State this may just be right up your alley.
If you've never been to a Fun 'n Gun consider this – we setup a handful of shooting stages meant to simulate real life scenarios. We explain the scenario to you and then allow you to deal with the situation with your loaded pistol. Rochester has a number of out door pistol ranges lined up right next to each other with 180 degrees of backstop. Each scenario is designed to be challenged, realistic, and a blast to shoot.
We encourage friends, couples, and groups to come have some fun. For more information on the event visit our website to reserve your spot before the Early Bird Registration deadline of Christmas Day. After Christmas Day tickets will be $109 per shooter in celebration of our 9th Annual Fun 'n Gun
Registration & Early Bird Discount Details Here
About:
Ohioans for Concealed Carry, founded in 1999, is a grassroots political activist organization. When founded, the primary goal of OFCC was getting concealed carry passed into law in Ohio. With that accomplished, our mission became to refine the concealed carry law and to expand and preserve the rights of all gun owners in Ohio. Visit: Ohioccw.org