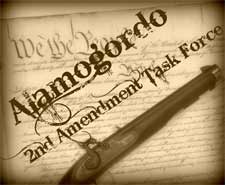 Alamogordo, NM –-(Ammoland.com)-  The Alamogordo 2ATF and the Otero County Tea Party willl hold a rally to celebrate the Bill of Rights.
The rally is on Saturday, 26 January 2013, on the corner of White Sands Blvd and 10th Street.
The rally will commence at noon. Larry Pratt (Gun Owners of America), Dr. Ray Seidel, Bob
Wright, and Diana Martwick (12th Judicial District Attorney) will speak.
In keeping with the spirit of this rally, we ask that any and all signs, banners, etc be kept positive.
This is not a protest.
Hope to see you there.
ABout Otero County Tea Party:
Our Mission Statement: We will preserve the spirit of the U.S. Constitution and Bill of Rights. We advocate limited government, limited spending and limited taxation. We promote economic freedoms. We will hold elected officials accountable for their decisions and their  responsiveness to their constituents. Visit: https://sites.google.com/site/octp111/
About:
The Alamogordo Second Amendment Task Force is an association of private citizens engaging in the free exercise of their God-given, constitutionally protected right to be armed.Visit: www.alamogordo2atf.com