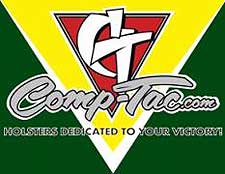 HOUSTON, Texas –-(Ammoland.com)- Comp-Tac Victory Gear's Gordon Carrell won the Production division's Master Class at home in the Lone Star State at the Texas Open USPSA Championship this past weekend.
In addition to winning Master Class, Carrell finished fourth overall in Production with a score of 1301.7835 (97.337%).
"This year's Texas Open had a lot of technical challenges that required you to be very sure with your footwork," said Carrell. "The match staff did a great job of keeping the shooters on their toes and it was a pleasure to help support them from a company standpoint."
Also competing in the match for Team Comp-Tac was Randi Rogers who took home High Lady honors, finishing seventh overall in Production with a score of 1244.4166 (93.048%).
Comp-Tac Victory Gear put in a full showing at the match. Team Comp-Tac members competed, Comp-Tac was a major match sponsor for the match and Comp-Tac insides sales representative set up a vendor booth on site.
"Supporting the USPSA match in our home state of Texas was very rewarding and reflects Comp-Tac's ongoing commitment to supporting the shooting sports. We're also very proud of our shooting team's outstanding performance here at home," said Gregg Garrett owner and president of Comp-Tac.
Next up for Team Comp-Tac, Carrell and Rogers will compete in the Superstition Mystery Mountain 3 Gun match in Mesa, Ariz., March 22-24 2013.
For more information on Team Comp-Tac, and the full line of Comp-Tac Victory Gear holsters and accessories, visit www.Comp-Tac.com, like Comp-Tac on Facebook at www.facebook.com/CompTac, or follow @CompTac on Twitter.