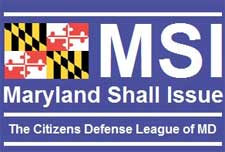 Maryland ––(Ammoland.com)- Yesterday, Senate Bill 281 received final approval in the House of Delegates by a 78 to 61 vote.
On the House floor, the bill was made even worse as Delegates stripped out a committee amendment that would have exempted active duty military and veterans under age 21 from the handgun licensing and training requirements.
This extremist anti-gun bill now goes back to the Senate as soon as TODAY for a concurrence vote on the House amendments.
This is your last chance to stop Governor Martin O'Malley's seizure of your Second Amendment rights.
It is critical that you contact Senate President Mike Miller and your state Senator IMMEDIATELY. Strongly urge them to oppose concurrence to the House version of Senate Bill 281. This is your state Senator's final chance to protect YOUR Second Amendment rights.
Senate Bill 281 targets and punishes law-abiding gun owners and sportsmen for exercising our fundamental right to keep and bear arms. The General Assembly has made it painfully clear they do not care about criminals using guns in crimes. They are making a full assault on law abiding citizens. We need look no further than this:
"It simply will cost too much to keep criminals in jail." Delegate Joseph Vallario.
They cannot afford to keep criminals in jail, but they can afford to lose 1,000 jobs and millions in tax revenue from Beretta, LWRC and other companies. They cannot afford to keep criminals in jail, but they can afford to implement a complex licensing system to curtail Second Amendment rights.
Also focus on these Senators who broke the filibuster last time, but not exclusively. Get in touch with your Senator. If they are pro-2A, thank them for being that.
James Brochin
(410) 841-3648, (301) 858-3648
1-800-492-7122, ext. 3648 (toll free)
James DeGrange
(410) 841-3593, (301) 858-3593
1-800-492-7122, ext. 3593 (toll free)
Thomas Middleton
(410) 841-3616, (301) 858-3616
1-800-492-7122, ext. 3616 (toll free)
Thomas V. Mike Miller
(410) 841-3700, (301) 858-3700
1-800-492-7122, ext. 3700 (toll free)
The message is simple: A Vote for Cloture is a Vote for SB281! We will not be tricked by those who vote for cloture, then vote against the bill when they know it will pass so they can claim to support the Second Amendment.
Maryland Shall Issue, Inc.
1332 Cape Saint Claire Road #342
Annapolis, Maryland 21409
240-446-6782
Mission Statement: Maryland Shall Issue is an all volunteer, non-partisan effort dedicated to the preservation and advancement of all gunowners' rights in Maryland, with a primary goal of CCW reform to allow all law-abiding citizens the right to carry a concealed weapon; and to the education of the community to the awareness that 'shall issue' laws have, in all cases, resulted in decreased rates of violent crime.