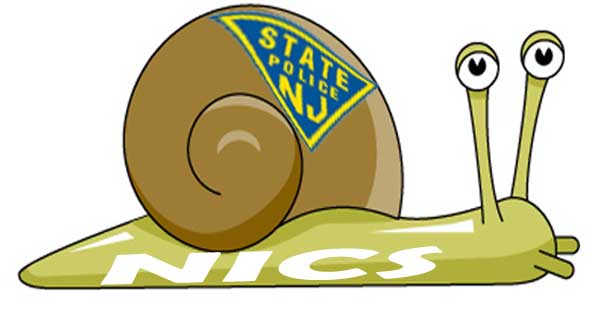 New Jersey –-(Ammoland.com)- The New Jersey Second Amendment Society has received a significant amount of correspondence from our members and NJ FFL's regarding the unprecedented delays with processing NICS checks.
It is our understanding that there is a 10 – 14 day wait from the time a dealer sends in the request for a background check till they receive a response from the NJSP as to weather or not the buyer is clear to purchase a firearm.
As a result of these delays, the citizens of NJ legally purchasing firearms are having their handgun purchase permits expire, and are having to reapply to their local police department for new permits.
We wish to inform our membership, New Jersey residents and supporters that NJ2AS is looking into the matter and will report back as soon as we hear from the NJSP about these delays.
It is unacceptable for the law abiding citizen to wait several months for a permit to purchase a pistol or firearms identification card only to face additional delays (and have those permits expire) imposed by the state of New Jersey.
Thank you for your patience. We will get to the bottom of this.
About:
New Jersey Second Amendment Society – Our mission is to promote the free exercise of Second Amendment rights within the community and Legislature of New Jersey, to educate the community regarding the enjoyable, safe, and responsible use of firearms, and to engender a sense of camaraderie and fellowship among the members and their families. Visit: www.nj2as.com