Obsolete Arms and Ammo
By Bob Shell
Apache Junction, AZ –-(Ammoland.com)- Although laser grips have been out for some years I never had an interest in them.
My feelings were that they took the place of practice which is never a good thing. Anyone who is serious about self defense for them and their family should practice and have all qualified members of the family do the same.
They are advertised as a sighting system for self defense guns. Admittingly, I am old fashioned and any battery operated gadgets on a gun I look at with a dubious eye. A handgun especially a self defense type should feel like an extension of your hand and it should be accurately aimed even at night.
This was my attitude when Travis Noteboom from Crimson Trace called me.
After some conversation I informed him that I have a boar hunt planned in a couple of months. He offered to send me a pair of grips for my model 629 in 44 magnum. Since I knew that some of the hunting would be at night, I thought that there are some possibilities there. Anyway the grips came a few days afterward and I installed them with little problem. Included with the grips are 2 batteries 2 tiny hex wrenches that adjust the sights and a pair of q-tips to clean the lens. Like any other sights, they have to be adjusted to the load and expected distance to be shot. The grips feel similar to the set that I removed which is good because they are comfortable. There is a good set of instructions provided which you would do well to read prior to installing.
The button on the front of the grips activates the sight and is conveniently located. Gripping the handgun as normal will activate the light. There is a tiny switch on the bottom of the grips that can shut off the light if you don't want it on for some reason such its daytime. The dot is about the size of a quarter and is very visible at various distances and backgrounds as long as sunlight isn't involved.
One thing I found out is that in bright sunlight the laser doesn't work. I tried on various targets including black backgrounds but it simply doesn't work in bright light. While this may be common knowledge with experienced users, this is a new gadget with me, so it's a learning experience for me. I tried being in the shade going through sunlight and putting the dot on a target in the shade. It worked some but not as well as total shade or indoors. Since I plan on taking them hunting for hogs I had to rethink how I was going to verify that my gun was hitting where the dot was. That meant that I would have to verify that during evening hours and would have to hunt at night, which I had planned, on doing anyway. In the daylight I can use the regular sights as I normally would.
I got to shoot it at 15 yards with a 240 grain cast bullet load that I know that is accurate. Anyway, it printed a little high but grouped well considering that I was shooting offhand in the desert. The dot did help me shoot a good group as it seems to help you focus on the target. Next, I will shoot the hunting load that I plan on using and sighting it in accordingly. The day was cloudy thus enabling me to shoot it ok. I went back in the evening with my 310 grain hunting loads. Starting out at 7 yards the Switch Hitter bullets were hitting a little high so I adjusted the sights a little so that they were just about point on at the 7 yard range. I moved back to 20 yards and verified the zero and was ready to go. The load has heavy recoil but the grips were comfortable and took the recoil very well. I was using a target with a cardboard background and the dot showed up well. Shooting offhand, the groups were very satisfactory.
I took it on a hog hunt in southern Arizona but unfortunately didn't have an opportunity for a shot. I tried the dot at various backgrounds and it showed up very clearly once it started to get dark. I would rate it useful for night hunts. I am planning on a follow up hunt in the near future and will take it with me. The 3" barreled 44 magnum while a bit heavy is handy to carry and quick to get in action. Those are two important factors to consider when carrying a handgun for night hunting.
The laser grips add no weight or bulk to the gun an important consideration in my view. By the way, recoil hurts less with the Crimson grips then with the factory wood.
I also received a set for my S & W model 19 in 357 magnum. Like the first set they installed with no problem and feel comfortable. Even with heavy loads, recoil wasn't bad even though the 19 is light and can be a bit frisky with the heavy stuff. Since it is a lot lighter then the 44 it makes a good carry gun for two and four legged critters. If I am out and about that is my carry gun. The model 19 is in my night stand in case of an intrusion. I have complete confidence in this gun and the Crimson Trace Laser Grips. Having complete confidence in your gun regardless of the usage is extremely vital. I like the fact that the grips send out the light from the grip as opposed to an attachment under the barrel. For what it's worth it just seems handier to me though they have some under barrel models. I am generally a revolver man but I do like the 1911 45 auto and will be getting a set for it.
I obtained a set for the Ruger Commander 45 auto that I am doing a T & E on. The gun is great and the Crimson Trace grips just make it better. It is going to be one of my carry and night stand guns and the grips will enhance its utility. As usual, the grips were easy to install and when you grip the gun, the light comes on. To me that is vital because you don't have to look for a button while dealing with an intruder. A typical homeowner is scared to death if someone breaks in and his heart is probably going a thousand miles per second. The safety on the Ruger is very easy to release and not having to worry about an extra step is important in a life and death situation. When seconds count the less steps you have to take the better it is for you. The ones mounted on rails are fine if you have time to push a button in addition to everything else that is going on.
The green lasers are superior in daylight, especially if it is bright but that is seldom the case with dealing with an intruder. I have shot green lasers on ranges and they do well there but give me a button activated model for personal defense anytime.
The batteries have a good lifespan and are easily replaceable if needed. The problem with the green lasers is the battery life is a lot shorter then the red ones. I imagine sometime in the future they will improve the lifespan of the green batteries. The grips have a warranty just fill out the card.
I also installed a set on my Rock Island 45 and as expected there were no problems and once I got them adjusted , I could shoot it at low light very well. The Rock Island takes the same grips as any standard military type 45.
The main purpose of the sight is to give someone a spot to shoot if an intruder brakes in their home at night. It gives a dot about the size of a quarter which is very easy to pick up. It would also have some intimidation value because if an intruder sees that dot on his chest then he should know what is coming next. If he has any brains he will surrender without a shot being fired. I tried the sight under some various lighting conditions and it worked very well. The good thing about it is that it comes on merely by gripping the gun in a normal fashion rather then trying to look for a button. For someone who is concerned about self defense at night then this is a very worthwhile product. An intruder usually has the element of surprise and these grips might help you get a leg up on him. Crimson Trace has an extensive line of grips for many of the guns on the market and they are always adding more.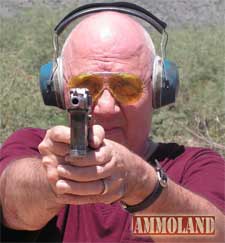 They have been around since 1994 so you can have confidence in their products and service. You can go to their website to get a complete list of their products which is growing all the time. They even have one for some models of the AR-15 and one for some archery equipment. Since the grips are custom made for a particular model some of the less popular ones might not be included as it wouldn't pay to engineer a set for a very few guns. They are a precision made product that is well made and if you think that they are expensive then you might want to take a look at how much you and your family's life is worth. They might just give you the edge that you need in an emergency.
They also have a 42 minute video that you can order for free that will give you a lot of good info just go to their website. Further info can be had at www.crimsontrace.com
Resources:
About Bob Shell
A Custom Reloader of Obsolete and Antique Ammo, Bob Shell, writes about the subject of Guns, Ammo, Shooting and Related Subjects. Visit: www.bobshellsblog.blogspot.com