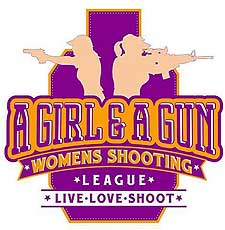 HOUSTON, Texas –-(Ammoland.com)-  A Girl & A Gun Women's Shooting League, the ladies-only organization established by women shooters for women shooters for the pistol, rifle and shotgun sports, announced that it will expand its popular 'Girls Night Out' event to a third Houston-area shooting range tonight, Wednesday evening, July 17, at the Athena Gun Club located at 10814 Katy Freeway.
The 'Girls Night Out' event will run from 6:00pm to 8:00pm and is open to the public. A Girl & A Gun members will pay $9 for their range fees. Non-members will be able to join the league or pay $18 to attend the event as a guest for the day. Rental firearms are available and will be offered to A Girl & A Gun members at a discounted rate on the day of the event.
"We are very excited to be partnering with the Athena Gun Club to help bring the fun and excitement of the shooting sports to more Houston-area women," said Tracy Hughes, facilitator of the Houston chapter of A Girl & A Gun.

"Any women in and around Houston that wish to learn more about firearms and the shooting sports are encouraged to join us tonight at the Athena Gun Club for what is sure to be another great 'Girls Night Out' event."
Founded in February 2011 in Austin, Texas by Julianna Crowder and Renee Blaine, A Girl & A Gun has quickly become the fastest growing shooting organization for women with over 1,500 members in 48 chapters across 19 states.
The Houston chapter, started by Tracy Hughes, began in October of 2011 with just 20 women participating in events at The Arms Room in League City, Texas. Today the chapter has almost 150 members and hosts events at three Houston-area shooting facilities.
For more information on A Girl & A Gun, visit www.AGirlAndAGunClub.com. You can also join the conversation online on Facebook or by following @AGAGClub on Twitter.