By Chris Dumm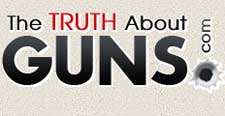 USA – -(Ammoland.com)- What's a lever-loving rifleman to do if he's got a hankering for a pistol-caliber carbine?
Marlins are garbage these days, and the rest of the lot (Henrys, Winchesters, Ubertis, Pedersolis and Cimarrons) are gorgeous and expensive heirlooms, almost too beautiful to carry afield.
If you're looking for a working man's cowboy carbine, Rossi's Model 92 is the last man standing.
How well does this $450 almost-SBR stack up against the other levers we've tested? Could it be, dollar for dollar, the best lever-action value out there? . . .
Let's start right up there at the muzzle.
Sights
The Model 92 follows The Cowboy Way when it comes to sighting equipment: a brass-beaded post up front and a semi-buckhorn leaf at the rear. The post is drift-adjustable for windage and the rear leaf has an elevation ramp.
Image: Chris Dumm for TTAG
Plastic bottle, I'm only gonna tell you once: there ain't room in this town for the two of us.
I'm not a huge fan of any kind of buckhorn rear sights, even though they are historically correct. This photo is a bit misleading, because a proper buckhorn sight picture puts the tip of the post at the bottom of the huge rear 'notch' instead of the top. This sight picture would send your bullet over the top of the target at any feasible range.
B-Square Sporting Rifle Mount
Iron sights just don't work for some shooters, often due to poor eyesight. B-Square sells this aluminum no-gunsmith mount for about $40. It's cheap and easily removed, but it looks like an ugly and uncomfortable abomination. Although it's slightly offset to the left (more discomfort) it also looks like it could deflect ejected cases back into the open action. Even at this price, I'm not particularly tempted to go this route. You just don't do this sort of thing to a rifle like this; if you want long-range precision you won't find it with a pistol-caliber saddle carbine anyway.
If you want better sights, have your gunsmith install a Williams or Lyman rear peep sight with a wide-open rear aperture and put a higher-visibility bead up front. This will improve both your speed and precision without sacrificing the cowboy vibe of your cowboy carbine.
Fiber-optic sights are another unobtrusive option, but if you absolutely must put a scope on a saddle-ring carbine like this, make it a long eye-relief 'scout' scope and mount it as low as you can. You'll give up some cowboy cred but you'll gain some accuracy and target-spotting ability. Rossi sells a fitted Weaver rail section that screws to the barrel for about $15, but you'll have to remove the rear sight to install it.
Accuracy
As I mentioned, this gun ain't a tackdriver and ….
Read the rest or our Rossi Model 92 Lever-Action Carbine Rifle Review at The Truth About Guns Blog: http://tiny.cc/fwie1w
About The Truth About Guns :
Robert Farago founded The Truth About Guns in February of 2010 to explore the ethics, morality, business, politics, culture, technology, practice, strategy, dangers and fun of guns. The TTAG team's been at it ever since. We've built the site on word-of-mouth, strong writing, and a no-holds-barred attitude. Visit:www.thetruthaboutguns.com