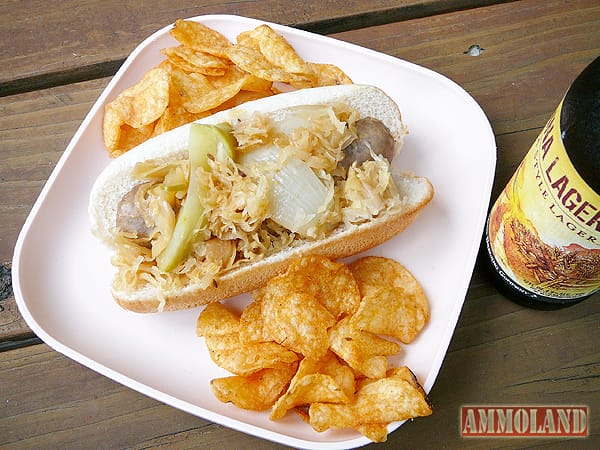 FREMONT, Neb. –-(Ammoland.com)- The time-honored tradition of combining hot food with sporting events may trace its roots back to the 1869 intercollegiate football game between Princeton and Rutgers, but CanCooker has redefined the term "tailgating" with its simple hands-off approach to preparing hot, delicious meals in the parking lot or the backyard as you get ready for the big game.
CanCooker takes all the guesswork out of your pre-game meal, no matter how many guests are coming over. Preparing sumptuous meals for large groups no longer means slaving for hours over a hot grill. With the CanCooker, the master chef can participate in all the pre-game fun, while maintaining the status of "hero of the grill."
Simply add 12 ounces of your favorite beer or other seasoning liquid recipe on top of your favorite ingredients inside the CanCooker—from surf to turf, layered with your favorite vegetables. Then lock down the top, and cook it over any heat source that will boil water. Within 15 minutes, you'll see steam, and about 45 minutes after that, your hero status will be confirmed as you dole out the deliciousness of your "hard work" at the grill. Everyone who visits your tailgate will enjoy wholesome, juicy goodness while praising you for your grill-master skills.
And thanks to your CanCooker's hard anodizing, steam-convection method of cooking, cleanup with soap and water is a snap. You'll be in the stadium or in front of the big screen with your guests, instead of laboring over a crusty grill.
Available in the 4-gallon CanCooker and 2-gallon CanCooker Jr. sizes, the old-time creamer-style container makes it easier than ever to cater to all sizes of tailgate parties, small or large. Both CanCookers are constructed of a highly conductive, thick-walled, FDA-grade, one-piece 1060 aluminum body with a wide-mouth vented lid and a premium high-temperature silicone gasket. Instead of grilling or boiling of conventional cooking methods, the CanCooker efficiently converts the liquid in the bottom of the container into steam that circulates within its shouldered design to create natural convection circulation for faster, even cooking. And the CanCooker does it without boiling away the nutrients or combining flavors. The results are tender, healthy and delicious.
The CanCooker and CanCooker Jr. are available at retailers nationwide for suggested retail prices of $89.99 and $59.99 respectively. The CanCooker Rack fits either model and is available separately for $13.99.
Visit the CanCooker website for a variety of recipes to try at tailgate parties or at home, www.cancooker.com. For your convenience, a free downloadable recipe book is available on the site.
Purchase CanCooker Products here: https://tiny.cc/uyw5vw
Headquartered in Fremont, NE, CanCooker was originally introduced in 2009. It is a new, unique outdoor cooking device that allows you to cook a lot of food without a lot of work. CanCooker makes a complete meal for large groups in about an hour and can work with any heat source, inside or out—from the stovetop to the grill to the campfire. For additional information, write to Seth McGinn's CanCooker, 925 West 6th St., Fremont, NE 68025; call toll-free 877-844-2772; or visit www.cancooker.com. Visit us on Facebook www.facebook.com/CanCooker.com.
Apple Beer Brats
Serves 5
5 fresh Johnsonville brand Bratwurst
1 yellow onion, peeled and halved lengthwise then quartered
1 Granny Smith apple, cored and quartered then sliced
½ pound sauerkraut, rinsed and drained
1 bottle (12 oz.) room temperature Abbey Ale Beer
½ tsp CanCooker Seasoned Salt
1 tsp. caraway seed
3 TBSP Dijon mustard
5 hot dog buns
Spray CanCooker with non-stick spray. Arrange bratwurst in cooker. Add onions, apples and sauerkraut. Mix remaining ingredients in bowl until blended. Pour into CanCooker. Cover and lock lid.
Once cooker begins steaming, steam for approximately 25 minutes. Remove from heat and let rest for 5 minutes. Remove and serve on hot dog rolls.