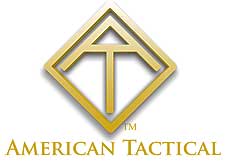 ROCHESTER, NY –-(Ammoland.com)- American Tactical sets the new standard in polymer AR lowers by introducing the new Omni-Hybrid AR-15 lower.
The new design is a fiberglass-composite polymer over a zinc metal insert. Designed to give extra strength in the high-pressure sections, the Omni-Hybrid surpasses military pressure and weight-baring testing. All testing procedures can be viewed at https://www.americantactical.us/page/hybrid.html.
This unique manufacturing process produces a lighter weight platform, with the total weight of the Omni-Hybrid stripped lower being 8 ounces, a ½ ounce lighter than a traditional aluminum AR lower.
"The Omni-Hybrid lower has gone through all the pressure and weight-baring testing of a traditional aluminum lower with flawless results," says Joe Calabro, Director of Marketing for American Tactical. "We feel like this new manufacturing technique will help set the standard for AR lower manufacturing."
The Omni-Hybrid stripped lower has an MSRP of $49.95, making it one of the most cost-effective multi-caliber lowers on the market today.
American Tactical is one of the nation's top importers and manufactures of firearm related products. Having created a unique channel of distribution, American Tactical has quickly become a single-source distribution provider for many manufacturers across the world. From its signature German Sports Guns (GSG) family of products, accessory lines like Drago Gear and manufacturing its own line of ATI AR-15 complete rifles and components, American Tactical continues to be a leader in the industry.
For more information and to see the full lineup of American Tactical products, please visit www.americantactical.us