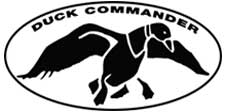 WEST MONROE, LA –-(Ammoland.com)- America's most famous duck-call family, the Robertsons, are calling for fans to visit their new Duck Commander website at duckcommander.com.
"Duck Commander fans get a lot of cool, new features with this website," says Brita Lewis, marketing strategist for Gray Loon Marketing Group, the company that developed the site.

"My favorites are the duck-call comparisons, duck-hunting resources and fan-submitted content. Visitors can even add their own recipes and photos to the site."

"The new site makes it easy to connect with family members on social media, and see where you can see them in person," says Stephanie Walker, Duck Commander website manager. "We want our fans to have something to look forward to when they come back to the website. New photos from fans are added daily."
For those new to duck hunting, the site also includes lessons on blowing and cleaning a duck call, a primer on duck species, a flyway map and information about duck-hunting laws and safety.
The now multi-million-dollar Duck Commander enterprise was founded by Phil Robertson in 1972 and is now run by his son, Willie Robertson. The company also includes America's favorite Uncle-Si, Jase, Jep and Alan Robertson and their families, as well as a few other close-knit folks. The company fabricates top-of-the-line duck calls and markets hunting apparel, cooking products, DVDs, CDs and branded novelty items. The Robertson family stars in the popular A&E series "Duck Dynasty." ( http://tiny.cc/1it76w )
They all share passion for faith, family and ducks. Visit the new Duck Commander website and online store at duckcommander.com.