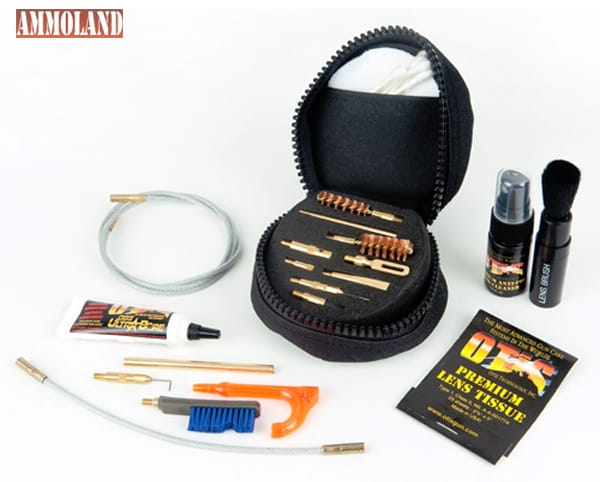 Lyons Falls, NY –-(Ammoland.com)- The Professional Rifle Cleaning System by Otis Technology was recently named Outdoor Life magazine's Editor's Choice. Otis is honored to have received such prestige.
The review appeared in the November/December issue of Outdoor Life and focused on portable pull-through gun cleaning kits. The article was written by John B. Snow in which he tested and evaluated six pull-through gun cleaning kits. The kits were evaluated on several criteria including 1) ability to clean the bore 2) ability to remove barrel obstructions 3) ease of deploying components/carrying 4) ability to service a firearm in multiple ways 5) ability to service multiple calibers 6) durability and 7) value.
Of the six portable cleaning systems evaluated, two were manufactured by Otis – one under the Otis brand and one marketed under the Cabela's brand. The Editor's Choice was bestowed upon the Professional Rifle Cleaning System (item # 308-5). This cleaning system can clean and maintain .30-.45 caliber rifles as well as clean optics.
Otis Technology developed the Breech-to-Muzzle gun cleaning concept back in 1985, after owner Doreen Garrett tripped in the mud while hunting. She went back to camp and developed a cleaning system that fit in a shoe polish tin – then called The Whole Kit And Caboodle. The main innovation that accompanied this portable and compact kit was the flexible pull-through cable, dubbed the Memory-Flex cable. That fateful day hunting was indeed a stumble into success for Doreen, and from that point on, she and Otis Technology led the market in lightweight and portable gun cleaning systems.
Otis Technology is known for manufacturing the most advanced gun cleaning systems available. The superior Breech-to-Muzzle design combined with unmatched quality has positioned Otis as the gun care system of choice with the US Military. Otis Technology is SMART GUN CARE.
For more information on this Press Release, log onto otistec.com