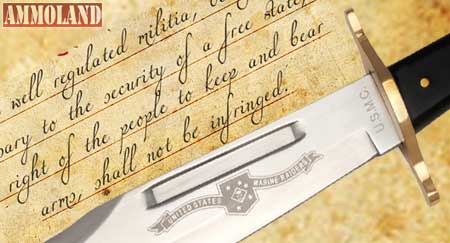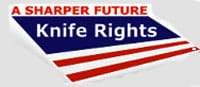 Gilbert, AZ –-(Ammoland.com)- Knife Rights is continuing to re-write knife law in America with five Knife Rights bills pre-filed for the 2014 legislative session.
This follows on Knife Rights' most successful year yet, with five bills passed in 2013.
Knife Rights Chairman Doug Ritter said, "building on the momentum we have gained over the past four years, with 12 pro-knife bills passed in 11 states, these five bills already pre-filed for 2014 are just a start on our efforts next year. We continue to work in a number of other states with later filing deadlines as we strive to make 2014 the 'year of the knife.'"
Knife Rights signature Knife Law Preemption bills have been pre-filed in Florida, Kentucky, Oklahoma and South Carolina. In Tennessee, the bill would repeal the ban on automatic knives and on carry of knives over 4-inches in length "with the intent to go armed," a vague term subject to abuse by authorities.
Knife Law Preemption is Knife Rights' signature legislative initiative and is the essential foundation for improving knife laws and protecting knife owners. Beginning with the nation's first Knife Law Preemption bill passed in 2010 in Arizona, Knife Rights has passed Knife Law Preemption in seven states to date. Knife Law Preemption prevents a patchwork of local ordinances which can entrap honest citizens traveling within or through a state.
Knife Rights is rewriting knife law in America™ in the legislatures and the courts. Support the fight for a Sharper Future™ with a donation before the end of the year and get chances to win from $7,500 worth of gift certificates valued up to $1,000. DONATE TODAY for a Sharper Future Tomorrow: https://bit.ly/1bdMNpi
ABOUT KNIFE RIGHTS
Knife Rights (www.KnifeRights.org) is America's grassroots knife owners organization, aggressively fighting for a Sharper Future™ for all knife owners. Knife Rights is dedicated to providing knife owners an effective voice to influence public policy. In the past four years, Knife Rights has passed pro-knife legislation in 11 states and prevented anti-knife legislation in four states. Knife Rights' Knife Owners' Protection Act was introduced in Congress this year. Knife Rights is also the lead plaintiff in a federal civil rights lawsuit against New York City.