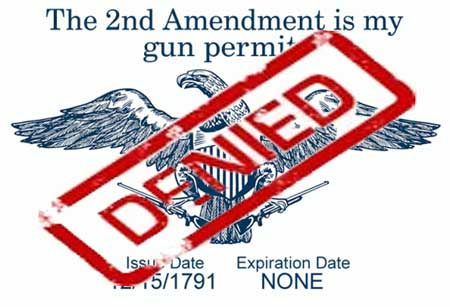 New Jersey –-(Ammoland.com)- If it is true that there is strength in numbers, then it is time to stand up and be counted.
By registering ( http://tiny.cc/3njr8w )  for this "event", you are pledging to your fellow (and gal) rights activists that you are ready, willing and able to join with them in an effort to show the three branches of New Jersey Government that you are serious about overcoming their artificial and unconstitutional infringement of your right to keep and bear arms (RKBA) as protected by the Second Amendment (2A).
Please do not register if you do not intend to follow through. There is sufficient "hot air" in the state legislature. We do not wish to add to it. What we all want is for people to make a commitment to each other to obtain and submit a fully completed carry license permit (including all the requirements) to their municipal police department or NJSP barracks as applicable. This is real and this is happening now. If you are not certain about applying, then do not register.
We see no reason to delay submission of you application to any specific date. In fact, it probably makes more sense for each of us to submit his or her permit ASAP. We cannot think of a strategic advantage to everyone submitting at once. In fact it is better if they receive the applications at random. Since we all expect to be denied, we should not give them a reason to "justify" a delay based on an overwhelming submission of applications all at once.
Submit your application as you see fit. It will be the activities we engage in AFTER we have all been denied that will be important.
Register Here after filing Application: http://tiny.cc/3njr8w
———————————————————————–
REGISTRATION WILL BE AVAILABLE TO MEMBERS ONLY!
If you know someone who might be interested in participating, they should be willing to become a member. If not, then are able to proceed as they wish separate from our project.
————————————————————————
PLEASE READ AND UNDERSTAND THE FOLLOWING CAVEAT:
The NJ2AS makes absolutely NO PREDICTIONS, PROMISES, or GUARANTEES of any kind nor do we predict, promise or guarantee any specific results whatsoever. We accept NO liability for any problems, costs, or any repercussion associated with your application submission whatsoever. By participating in the project, you are agreeing to accept any potential consequences known or unknown upon yourself. You should do your own research if you are concerned about how applying for a carry license may or may not affect you before you submit. We will not advise you on whether or not to proceed. It is your individual decision.
The role the NJ2AS is willing to take is to handle the registrations, help with organizing activities subsequent to submission, and to be a source if information. Anyone who decides to submit their application is doing so of their own accord and is under no obligation to the NJ2AS to do so. This is an agreement you are making with each other that we will help to facilitate.
Thank you for your attention
Frank Jack Fiamingo
President – NJ2AS
About:
New Jersey Second Amendment Society – Our mission is to promote the free exercise of Second Amendment rights within the community and Legislature of New Jersey, to educate the community regarding the enjoyable, safe, and responsible use of firearms, and to engender a sense of camaraderie and fellowship among the members and their families. Visit: www.nj2as.com