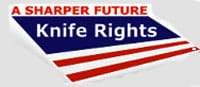 Gilbert, AZ –-(Ammoland.com)- South Carolina state Senator Kevin L. Bryant has introduced a Knife Law Preemption bill, S.885, for the 2014 session. S.885 simply adds "knives" to the state's existing Firearms Preemption Law.
It would make state knife law supreme over the entire state, repealing existing local knife regulations and prohibiting any future knife regulations. This is the fifth Knife Rights backed bill pre-filed for the 2014 legislative session!
If you live, work or travel in South Carolina, please contact your state Senator and ask them to please support S.885. If Sen. Bryant is your Senator, please thank him for sponsoring S.885. You can find your South Carolina state Senator here: https://www.scstatehouse.gov/legislatorssearch.php
Knife Law Preemption is Knife Rights' signature legislative initiative and is the essential foundation for improving knife laws and protecting knife owners. Beginning with the nation's first Knife Law Preemption bill passed in 2010 in Arizona, Knife Rights has passed Knife Law Preemption in seven states to date. Knife Law Preemption prevents a patchwork of local ordinances which can entrap honest citizens traveling within or through a state. This is the fourth Knife Rights' Knife Law Preemption bill filed so far for next year.
Knife Rights is rewriting knife law in America in the legislatures and the courts. Support the fight for a Sharper Future™ with a donation before the end of the year and get chances to win from $7,500 worth of gift certificates valued up to $1,000. DONATE TODAY for a Sharper Future Tomorrow!
About:
Knife Rights (www.KnifeRights.org) is America's Grassroots Knife Owners Organization, working towards a Sharper Future for all knife owners. Knife Rights is dedicated to providing knife owners an effective voice in public policy. Become a Knife Rights member and make a contribution to support the fight for your knife rights. Visit www.kniferights.org