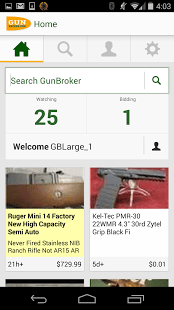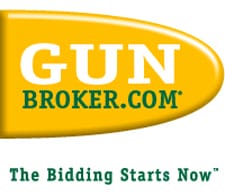 LAS VEGAS – GunBroker.com announced that GunBroker.com's first-ever app for mobile devices will be unveiled at the SHOT Show in Las Vegas.
For the first time, gun enthusiasts, sportsmen and collectors will be able to readily survey what is up for auction from mobile devices in a user-friendly format. Users of the mobile app will be able to browse and search GunBroker.com product listings. They'll also be able to BID and BUY on the GunBroker.com site using a mobile-optimized interface.
The GunBroker.com mobile app makes it possible to search, watch, bid and buy from virtually anywhere.
The GunBroker.com mobile app includes a Push Notifications component, providing custom alerts that allow GunBroker.com users to monitor bidding activity for all of the items that they are watching or bidding on. Users can also quickly locate a Federal Firearms Licensee (FFL) by simply entering a zip code or device location.
"This initial release of the GunBroker.com mobile app is designed for buyers", said Steve Urvan, CEO of GunBroker.com. "We made the decision to first provide a seamless experience allowing people to find and bid on items from wherever they happen to be. We recognize that our sellers use mobile tools as well, so future releases of the mobile app will include expanded sell-side tools."
Currently, the app is available only for android-operated devices, but support for other platforms is expected shortly.  Download the free GunBroker.com app today using the Google Play Store app and searching "GunBroker.com."
For more information, go to https://www.GunBroker.com/onthego
GunBroker.com attracts over 5.5 million unique visitors a month, making it one of the top 400 websites in the world, and a major barometer and resource in the firearm and hunting markets.
Google Play is a trademark of Google Inc.
About GunBroker.com
GunBroker.com is the world's largest gun auction website. Launched in 1999, GunBroker.com is an informative, secure and safe way to buy and sell firearms, ammunition and hunting/shooting gear online. GunBroker.com promotes responsible ownership of guns and firearms. Aside from merchandise bearing its logo, GunBroker.com sells none of the items listed on its website. Third-party sellers list items on the site and Federal and state laws govern the sale of firearms and other restricted items. Ownership policies and regulations are followed using licensed firearms dealers as transfer agents.
Read more about GunBroker.com Launches Its First Mobile App – BWWGeeksWorld by www.broadwayworld.com