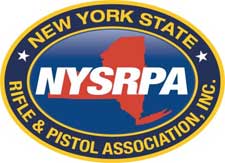 New York –-(Ammoland.com)- Ladies and Gentlemen,
As promised from the start your NYSRPA will be filing the attached Notice of Appeal in Federal Court today, our second step on the way to the U.S. Supreme Court.
I know many of you were disappointed by what you perceived as a huge loss on New Years Eve but that is simply not so.
In the coming days we will release a statement regarding the decision and our future intentions.
We thank you for your continued support.
Tom King
Cogito ergo sum ​​armati
NYSRPA v Cuomo Notice of Appeal Regarding NY Safe Act
About:
The New York State Rifle & Pistol Association is the state's largest and oldest firearms advocacy organization. Since 1871, our organization has been dedicated to the preservation of Second Amendment rights, firearm safety, education and training, and the shooting sports. Our membership consists of individuals and clubs throughout the state. We are a not-for-profit 501(c)4 organization and the official NRA-affiliated State Association in New York. Visit: www.nysrpa.org