("Safe Act Proponent Charged for Carrying Gun in a School") – Ammoland 2/17/14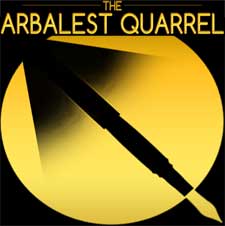 New York, N.Y. –-(Ammoland.com)- Stephen L. D'Andrilli, President and CMO of Arbalest Group LLC., summarizes breaking news reports on Dewayne Ferguson and says what he thinks.
If news accounts are true, Mr. Ferguson is a hypocrite. A person cannot both claim to be a pacifist and carry a loaded weapon.
A true advocate for non-violence and peace would find gun ownership immoral. Such a person would disapprove of all forms of aggression, including the use of defensive force against a violent attack. I, therefore, must question why Ferguson would apply for a pistol license in the first place.
Why would he possess a gun and carry it loaded on a regular basis while advocating for non-violence and peace? Then, too, I find it odd that he would lobby for stricter gun control laws, and walk into a school filled with children with a concealed gun. This is deceitful.
Also see: "Stephen L. D'Andrilli Addresses U.S. Gun Rights on 'Inside America'"
Just click on the link: www.arbalestquarrel.com. As always, we value your comments.