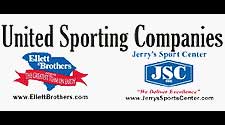 Chapin, SC –-(Ammoland.com)- United Sporting Companies (USC) is honored to receive the coveted 2013 Distributor of the Year Award from one of America's largest AR-15 manufacturers, DPMS – Panther Arms, for exhibiting top tier distribution merit and industry-leading customer service of its products.
DPMS Firearms ranks as the second-largest manufacturer of AR-15 rifles according to The Bureau of Alcohol, Tobacco, Firearms and Explosives statistics.
DPMS firearms and patented accessories are currently in use worldwide by law enforcement agencies, military personnel and civilians, including U.S. Border Patrol officers and America's top competitive shooters and big game hunters.
United Sporting Companies (USC) is a leading nationwide distributor of hunting, outdoor and marine products. The company operates through two subsidiaries, Ellett Brothers and Jerry's Sport Center which were founded in 1933 and 1949, respectively. USC distributes to all 50 states through facilities in Chapin, SC, Newberry, SC, Pittston, PA, Harrisburg, PA, Dayton, OH, Spring Hill, KS, Reno, NV, and Dallas, TX.
With the largest sales force in the industry, USC serves over 30,000 independent retail customers and maintains the largest product selection in the industry with over 85,000 SKUs.