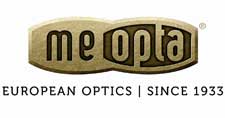 HAUPPAUGE, NY – -(Ammoland.com)- Meopta USA has just introduced the new MeoPro HD binocular series in the USA.
This next generation MeoPro binocular line features advanced fluoride HD optics and is available in 8×32, 10×32, 8×42 and 10×42 models.

Assembled in the U.S. at Meopta's Long Island, NY facility, the new MeoPro series has an updated look and feel.  These binoculars are lightweight, extremely durable and offer a brilliant viewing experience. Fluoride HD objective lenses and MeoBright ion-assisted multi-coatings deliver incredible clarity, superior color fidelity and edge-to-edge sharpness while eliminating chromatic aberration in the most challenging viewing conditions.  A totally redesigned, lightweight magnesium chassis is built to withstand the rugged conditions of the field and, like all Meopta binoculars, the MeoPro HDs are nitrogen purged and fully sealed for fog-proof, water-proof and shock-proof performance, year after year.
"Our newly designed optical system, combined with SCHOTT fluoride HD glass and improved ergonomics, makes our new MeoPro HD binocular an exceptional performer," said Reinhard Seipp, general manager and COO of Meopta USA.  "In high-contrast lighting situations, chromatic aberrations are completely suppressed while resolution and clarity are maximized.  This new MeoPro HD series offers top level HD performance to hunters looking for a true value."
The external lenses of MeoPro HD are also treated with Meopta's proprietary MeoShield abrasion-resistant coating which meets military specifications for durability and surface hardness.    Twist-up eye cups feature four click-stop positions to accommodate users with or without eyeglasses and a right side ocular diopter control provides +/- 3 D adjustment for simple individual optical tuning.
All MeoPro HD binoculars work seamlessly with Meopta's MeoPix iScoping Adapters which are available for the iPhone 4/4S and 5/5S models and Samsung Galaxy S4.
MSRP:
MeoPro HD   8×32                        $    747.49
MeoPro HD 10×32                        $    804.99
MeoPro HD   8×42                        $    977.49
MeoPro HD 10×42                        $ 1,034.99

Specifications:
Model:                                    8×32                        10×32                        8×42                        10×42
Objective Lens (mm) :            32mm             32mm                        42mm                        42mm
FOV ft./1000 yds.                          414 ft.             384 ft.                       384 ft.                       351 ft.
Eye Relief (mm):                     17mm                        15mm             22mm                        17mm
Close Focus (ft):                       5.6 ft.                       4.9 ft.                       9.8 ft.                       8.4 ft.
Exit Pupil (mm):                       4mm                        3.2mm            5.3mm            4.2mm
Twilight Factor:                       16                        17.9                        18.3                        20.5
Dioptric Correction (D)            +/-3                        +/-3                        +/-3                        +/-3
Height (in):                                    5.2 in.                       5.2 in.                       6.1 in.                       6.1 in.
Width (in):                                    5.2 in.                       5.2 in.                       5.2 in.                       5.2 in.
Weight (oz):                                    21.1 oz.            21.1 oz.            24.6 oz            24.3 oz
Lens Coatings:                         MeoBright, MeoShield
Waterproof:               yes                        yes                        yes                        yes
Nitrogen Purged:   yes                        yes                        yes                        yes
Shockproof:   yes                        yes                        yes                        yes

MeoPro HD Binocular Series Key Features

Built in the USA
TO2 (Twilight Optimized Optics) system delivers the highest light transmission when you need it most – in the low light of dawn and dusk.
Proprietary ion assisted lens coatings. MeoBright coating eliminates glare and reflections and delivers incredibly bright (98.7% transmission per lens surface) and sharp images across the field of view. MeoShield coating protects external lens surfaces from abrasions and scratches.
HD fluoride objective lens elements eliminate chromatic aberration (CA) or color fringing by bringing light wavelengths into a single common focus along the optical axis – delivering maximum resolution and vivid color fidelity in challenging lighting conditions.

 

Magnesium chassis is lightweight, rugged and completely nitrogen purged for fogproof, waterproof and shockproof performance. Sculpted rubber armor protects binocular body from abrasion and impacts and provides excellent tactile feel and grip.
Covered by Meopta's North American Lifetime Transferable Warranty.
About Meopta
The Meopta Group is a U.S. family-owned, multinational company with facilities in the United States and Europe. Founded in 1933 in Czechoslovakia (now the Czech Republic), Meopta is a leading manufacturing partner to many of the world's finest optical brands. In their Czech facility, Meopta conceives, develops and manufactures precision optical and electro/optical systems for semiconductor, medical, aerospace and military industries as well as for consumer markets. In their New York plant, precision optical products are manufactured and assembled to exacting standards in clean-room environments for the military, industrial and consumer markets.
For more information regarding Meopta, please visit www.meoptausa.com.