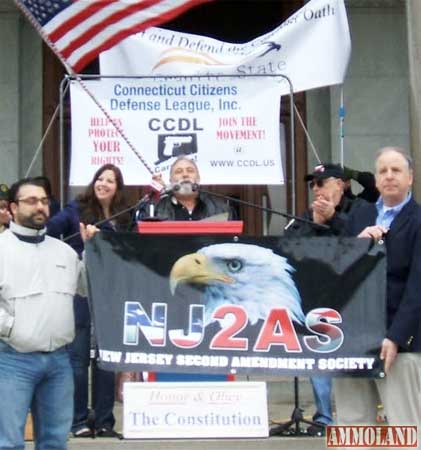 New Jersey –-(Ammoland.com)- Along with more than 3,000 patriots and supporters, several executive members of NJ2AS attended the Connecticut Citizens Defense League, Inc. (CCDL) (http://www.ccdl.us) Gun Rights Rally at the State Capitol in Hartford, Connecticut on Saturday, April 5, 2014.
CCDL leaders, gun owners and other supporters in the rally crowd expressed their gratitude and appreciation that NJ2AS attended the rally.
NJ2AS President, Frank Jack Fiamingo was invited by CCDL President, Scott Wilson, to give a brief speech at the rally. The text of the speech delivered by NJ2AS President, Frank Jack Fiamingo is below. As the NJ2AS delegation left the stage, CCDL President, Scott Wilson was gifted an NJ2AS ball cap, which he donned on and off throughout the remainder of the ceremonies.
In addition to working with CCDL, the NJ2AS delegation also met with leadership of Connecticut Carry, Inc.(http://www.ctcarry.com) and NY SCOPE, a New York based gun-rights organization, (http://www.scopeny.org).
Speech Given by Frank Jack Fiamingo, President – NJ2AS
Connecticut Rally – April 5, 2014 – Hartford, CT

New Jersey is in the house! We are standing together with our brothers and sisters here in Connecticut to show OUR support. You are the vanguard of a movement which is spreading all across this great nation. As you know, we have our own problems back in New Jersey, but when it comes to RKBA, there are no state boundaries. This is a REPUBLIC of individual states and individual people, but we are a nation of LAWS and not whims. While each state may have its own sovereignty, none may vote away the inalienable rights of the people. Chief among these rights is the right to one's OWN life and freedom, and the right to protect and defend one's family, loved ones, neighborhood, community, state and NATION against ANY attack REGARDLESS of whether it comes from a single criminal, from a gang or from a government which no longer respects the sovereignty of the people.

This is not just a political battle, it is an existential one. We as a people have a choice to make. Do we give up our rights to repel the initiation of the use of force against us, or do we exercise the preexisting rights our founders so carefully enshrined in the Constitution and Bill of Rights. One choice will lead to slavery while the other ensures our freedom. It is astonishing to me that we are being FORCED to make this obvious choice.

Proponents of gun control – a lie that we ALL realize is code for PEOPLE control – will say "But we only want to limit your rights, we don't want to take your guns away. All we want is REASONABLE regulations". To that I say, the only reasonable regulation that gun owners must follow is "DO NOT USE YOUR GUNS TO INITIATE THE USE OF FORCE AGAINST YOUR NEIGHBOR".

We don't tell people what books to write, nor do we tell them how many words they can use. Why do THEY believe that they can restrict the type of weapons we use to defend ourselves and/or the number of rounds we may have? They will tell us "After all, you cannot yell FIRE in a crowded theater". Putting aside for a moment whether or not that is actually true, you certainly CAN yell fire in a crowded theater if there actually *IS* a fire. Well, *WE* have a fire here. One that has been consuming our right to keep and bear arms little by little over a period of many years, and it HAS TO STOP *NOW*!

So, what do we do about it? Well, the first rule of triage is "Stop the bleeding". We cannot give up a single drop more or they will bleed us dry. When it comes to FREEDOM and FAMILY, there is no room for compromise. Even without the Bill of Rights, WE know that we have the individual, human right to keep and bear arms to protect our families and our freedom. We don't need the government to grant us these rights, and we CERTAINLY won't allow the government to take them away. That is why it is important for us to continue to grow this ORGANIZED, NATIONAL, GRASSROOTS, RKBA MOVEMENT! We ARE the boots on the ground and we need to make SURE that they hear us coming. WE WILL NOT COMPLY!
MONTHLY MEETING INFORMATION
The April monthly meeting of the New Jersey Second Amendment Society will be held on Wednesday, April 30, 7:30PM at the VFW in Kenilworth, NJ
Candidate for United States Congress, Dave Larson will be the featured speaker. This is an opportunity to hear his views on the subjects that are important to our members and supporters and to the community at large.
All are invited to attend. There is no cost to attend our meetings, however since we are a non-profit Society and depend on contributions from our member supporters, donations are always greatly appreciated.
PLEASE REGISTER HERE
WHAT IS A "THUNDERCLAP"?
It is a VERY loud noise, and that is exactly what we want to make. The Thunderclap tool is a social media application that magnifies an individuals reach by giving all his contacts and his contacts contacts the opportunity to pass along an important message by "joining" in the Thunderclap.
It is simple to join and can result in a HUGE number of people acting together to make a point (loud noise). Our Thunderclap is targeted at Senate President Sweeney and his Majority Leader sidekick Loretta "confiscate" Weinberg. If it is successful, they will be deluged with email demanding that they stop their efforts to disarm the people of New Jersey. Consider this a test run of what this tool is capable of doing.
I AM ASKING EVERY SINGLE MEMBER AND SUPPORTER TO PLEASE JOIN IN ON THIS THUNDERCLAP!
About:
New Jersey Second Amendment Society – Our mission is to promote the free exercise of Second Amendment rights within the community and Legislature of New Jersey, to educate the community regarding the enjoyable, safe, and responsible use of firearms, and to engender a sense of camaraderie and fellowship among the members and their families. Visit: www.nj2as.com