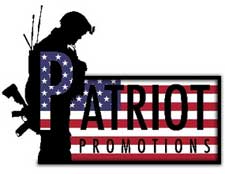 Atlanta, GA. –-(Ammoland.com)- Patriot Promotions welcomes FOG Firearms and Ammunitions to their client list, along with their sponsored competitors, Heath Parsons and Junior shooter, Ayden Parsons.
Heath comes to FOG with some notable accomplishments! He won high overall at the Texas State Steel Challenge Championship the last 2 years running. Is a 4 time AASA National Shoot-off Champion, 3 time World Shoot-off Champion, and a took 1st in his class at the 2014 Texas Open Championship, the 2014 Oil Field Classic and the 2014 Double Tap Championship.
Heath and his son Ayden, are on a mission to win the World Speed Shooting Championship, as well as the 2014 Pro-Am, Area 4 Championship, US Open Nationals, Space City Challenge, and the IPSC World Shoot coming up later this fall.
As a proud dad and advocate for junior shooters, Heath shares how Ayden began competitive shooting sports.
"I started Ayden at the same age I did, 8 years old. His first competition was August 2013 at the Texas State Steel Challenge Championship. He'd never competed against anyone before but I knew I wanted to get him started with something fun. He did everything I knew he could and more. He then won the Texas State Junior Open Champion Title."

FOG Firearms

"One month later, he repeated that feat and became the Texas State Junior Pro-Am Champion! I then decided to take him with me as my road buddy to every major match I attended in 2014. We began with the US Steel Nationals in Titusville Florida, where once again, Ayden won the high overall pre-teen open champion title."

"Ayden's definitely on a roll and FOG Ammunition has been an integral part of helping us both accomplish our goals. We are very excited about joining the FOG Team and look forward to a bright future with them by our side!"

"I demand the best in my shooting gear and components and I'm very glad I choose FOG Ammunition. They offer consistency, reliability and dependability in every shot!"