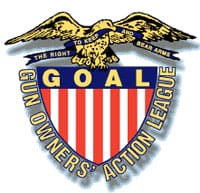 Massachusetts –-(Ammoland.com)- On Wednesday, GOAL held a pro 2nd Amendment rally and lobby day at the Massachusetts State House. The State House Park Rangers estimated the attendance at between 300-400. The rally and lobby day was held to oppose Speaker DeLeo's gun control bill, as originally drafted, H. 4121.
GOAL Executive Director Jim Wallace meets with House Speaker DeLeo
Yesterday GOAL Executive Director Jim Wallace and House Speaker Robert DeLeo met in private for over an hour, discussing H.4121.
Jim reports that Speaker DeLeo was willing to listen and asked a lot of questions during the meeting.
GOAL would like to thank Speaker DeLeo for the time and consideration.
We are proud to represent our membership, who represent the 350K  licensed gun owners of Massachusetts. As always we will alert our membership as necessary, should H.4121 move out of the House Ways & Means Committee.
Please click here for GOAL's H.4121 alert page.
"We are here today to demonstrate that lawful gun owners are angry about legislation that would only seek to further persecute them," Jim Wallace, Executive Director of GOAL. "We are disappointed that this legislation is proposing nothing that would stop criminals from perpetrating gun crime. We're here to tell the Legislature to put a face on the opposition to the bill."
Wallace was joined by many lawmakers to rally the crowd including:
· Sen. Michael Moore
· Rep. Matt Beaton
· Rep. Shaunna O'Connell
· Rep. George Peterson
· Rep. Marc Lombardo
· Rep. Leah Cole
· Rep. Nick Boldyga
· Rep. Todd Smola
· Rep. Keiko Orrall
· Rep. Geoff Diehl
· Rep. Steve Howitt
· Rep. Angelo D'Emelia
· Rep. Susan Gifford
· Rep. Peter Durant
About:
Gun Owners' Action League is the official state firearms association in Massachusetts. We are an association of law-abiding citizens who believe in the basic right of firearms ownership for competition, recreation and self-protection. GOAL works hard to defend the Constitution and the Bill of Rights against those in Massachusetts who wish to infringe upon the freedoms guaranteed by our forefathers. The programs sponsored and developed by Gun Owners' Action League are supported by competitors, sportsmen, recreational shooters and law enforcement throughout the state. We were formed in 1974 to protect the right to keep and bear arms for lawful purposes in the Commonwealth of Massachusetts. We are recognized as the state's premier gun rights association. www.goal.org