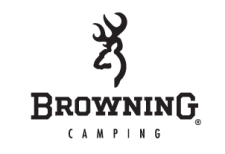 New Haven, MO – (AmmoLand.com) Browning Camping has updated the Shadow Series Pop-Up Ground Blinds with a new window curtain system for 2014.
Designed for a wide range of window openings, it is sure to satisfy any hunter's needs.
The 4 models of blinds offered by Browning Camping (Powerhouse, Phantom X, Phantom, and Mirage) all now feature the Silent Track Window System.
"We wanted to keep the hunter's viewpoint in mind and offer a user-friendly design that allows the ultimate window placement and customization," said Zach Scheidegger, Browning Camping Product Manager.

"We already offered some of the biggest windows on the market, allowing the hunter to have the best point of view without sacrificing the ability to stay hidden in the shadows. We have now combined those large windows with a curtain system that will be a huge benefit for all hunters in their different hunting situations."
The new Silent Track Window System is designed to offer multiple window opening options that are customizable on the fly. Each window curtain has a track on each end that allows the curtain to be slid quietly to any position or opening height on the blind's windows. This allows the hunter to set up for what they've planned and adapt for what they didn't.
Browning Camping Shadow Series hunting blinds also feature durable custom carry bags that can transport your bow or gun and blind chair, oversized zippers, an included bow hanger, oversized stakes, and strong and flexible poles.
MSRP For the Browning Camping Shadow Series Pop-Up Blinds
Mirage: $199.99
Phantom: $239.99
Phantom X: $299.99
Powerhouse: $299.99
Visit www.browningcamping.com for more information on this and other products that also have earned the title for being "The Best There Is".
About Browning Camping: Browning Camping is licensed by ALPS Mountaineering, which started in 1993 with the mission of providing quality, high performance, affordable gear for backpackers and campers.  ALPS Mountaineering designs and manufactures tents, sleeping bags, air pads, packs, and camp furniture.  Their second brand, ALPS OutdoorZ, was started in 2007 when they extended their knowledge gained from designing quality backpacking and camping gear to market and design camouflaged gear for hunters, such as packs, turkey and blind chairs, and sleeping bags.  ALPS and Browning Camping items are sold and distributed in the best camping, backpacking, and outdoor dealers throughout the entire US and Canada.