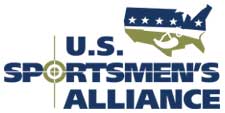 Columbus, OH –-(Ammoland.com)-The U.S. Sportsmen's Alliance (USSA) is pleased to announce the launch of its fully renovated website that offers visitors a user-friendly, easy to navigate site to stay up-to-date on issues USSA is working on across the country.
The site will also showcase a new video series, allow for easy membership sign-up and much more!
Visitors to the site at www.ussportsmen.org will enjoy quality graphics that highlight USSA's work to defend and advance hunting, fishing and trapping nationwide. The site is easy to explore from your desktop as well as mobile devices.
A key feature of the site is the state by state breakdown of issues affecting our outdoor heritage under the Government Affairs page. Visitors can also view the President's Blog – The Sportsmen's Notebook, for in-depth content from USSA's President and CEO, Nick Pinizzotto, as well as other USSA staff members and guests.
"The rebuilding of our site is one of many steps forward we have taken in recent months, and there are many more to come," said Pinizzotto. "Ultimately our goal is to build the most effective organization possible to protect hunting, fishing and trapping opportunities in the country, and our new website is a small but important component to that effort."
Along with news, the site will feature a section to showcase the new USSA video series, USSA TV. Hosted by Communications Specialist, Kali Parmley, the series will follow USSA across the country as they fight to protect your outdoor heritage. The series will also include product reviews, hunting stories and more.
In the USSA Forum, sportsmen and others are able to voice their opinions on topics important to our heritage and our sports. Interested in opinions on a state trapping issue or knowing what caliber is best for elk hunting? Ask your fellow sportsmen in the USSA Forum.
The site also offers sportsmen various ways to become directly involved in the fight to protect hunting, fishing and trapping through USSA's different membership levels and numerous volunteer opportunities which are vital in protecting our outdoor heritage today and tomorrow.
Visit the site today at www.ussportsmen.org.