The Recoil iS Crew has room for four and much more.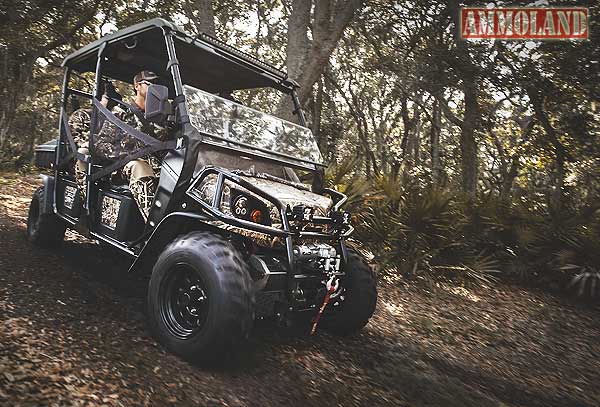 AUGUSTA, GA – Get on board or get left behind. The Recoil iS Crew is the newest all-electric vehicle from Bad Boy Buggies and is the only model that offers two forward-facing bench seats as well as a cargo bed.
This relentless hunting machine is built for the whole team.
The Recoil iS Crew also features 2015 model-year updates that will extend across the entire Bad Boy Buggies Sport Series product line, designed to offer riders enhanced comfort and style. Model year changes include contoured bench seats with high backs, new three-spoke comfort-grip steering wheel, increased dashboard storage, more ergonomic controls, new tire options and Realtree's newest camouflage option, Realtree Max 5.
Like all Bad Boy Buggies vehicles, the Recoil iS Crew is manufactured by the E-Z-GO Division of Textron Inc.
The Recoil iS Crew offers a powerful 38-horsepower, 720cc fuel-injected Subaru engine as well as four-wheel independent suspension for a smooth ride. To maximize electric performance, the vehicle's 72-volt electric drivetrain features AC Drive technology, offering longer range and greater, more sustained performance between charges than traditional DC-powered drivetrains. When additional traction is needed, locking front and rear differentials direct the vehicle's power to the wheels that need it most, powering the vehicle through the toughest terrain.
"We're very excited about the launch of the 2015 Bad Boy product lineup, which features the all new four-passenger Recoil iS Crew," said Eric Bondy, Vice President, Consumer for Bad Boy Buggies. "Bad Boy continues providing products to help customers dominate their trail ahead, with range, power, performance and unmatched silence."

"Bad Boy takes pride in revolutionizing and providing new experiences for the outdoor enthusiasts, whether a hunter or a recreational rider," Bondy said. "Since our founding, we've delivered innovative vehicle options and will continue to be the leader in the electric and hybrid space."
The Recoil iS Crew features two forward-facing bench seats to accommodate up to four passengers plus a 5.9 cu. ft. cargo bed for hauling everything needed for a day's outdoor adventure.
Safety features such as an occupant protective structure (OPS), three-point seat belts and side safety nets are standard on the Recoil iS Crew.
The Recoil iS Crew is available in matte black, matte green, flame red, Realtree Xtra™ camouflage, or in Realtree Max 5.
The Recoil iS Crew will be available in October 2014 from Bad Boy Buggies Authorized Dealers. To learn more, or to find your local dealer, visit badboybuggies.com.
About Bad Boy Buggies
Bad Boy Buggies is a leader in off-road utility vehicles for hunting and outdoor lifestyles. Bad Boy Buggies pioneered the category of electrically powered 4×4 vehicles, ideal for hunting and outdoor recreation due to their silent, odorless operation and environmentally friendly, emissions-free drivetrains.
Today, the Bad Boy Buggies product line ranges from four-wheel-drive electric hunting machines such as the Recoil, a fully electric, 4WD vehicle with an innovative, highly efficient 72-volt AC electric drivetrain, to the Work Series of diesel and gas-powered utility vehicles, including the Bad Boy Buggies XD, a versatile 4WD, diesel-powered utility vehicle with a total capacity of 1,600 pounds.
About Textron Inc.
Textron Inc. is a multi-industry company that leverages its global network of aircraft, defense, industrial and finance businesses to provide customers with innovative solutions and services. Textron is known around the world for its powerful brands such as Bell Helicopter, Cessna, Beechcraft, Hawker, Jacobsen, Kautex, Lycoming, E-Z-GO, Greenlee, and Textron Systems.  For more information, visit www.textron.com.