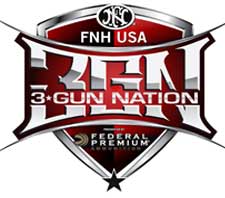 USA –-(Ammoland.com)- The 2014 FNH USA 3-Gun Nation Pro Series culminates in this season-ending event. Watch as the top competitors on the 3-Gun Nation tour compete in a head-to-head, no holds barred shoot-off for cash, prizes and the championship title.
The 3-Gun Nation Ladies Professional Series, sponsored by Samson Manufacturing, concludes with the top eight (8) ladies competing for $25,000 Cash. And the 3-Gun Nation Pro Series culminates as the top thirty two (32) finalists will compete for a $50,000 cash payday sponsored by Leupold and NRA Sports.
HOW IT WORKS:
The event will feature 3 stages of fire (shoot-off stages). Each of the top 32 (males) and 8 (females) will be paired against each other based on series rank. The first of the paired competitors to complete the course of fire will advance. Stage 1 will feature 32 males; 8 females. Stage 2 will feature 16 males; 4 females. Stage 3 will feature the final 8 males; final 2 females. The final male will win the $50,000 cash prize. The final female will win the $25,000 cash prize. The finale (stage 3) is expected to begin at 4 pm.
OTHER ATTRACTIONS INCLUDE:
3-Gun Nation Side Stage sponsored by DPMS: Try your hand at 3-Gun! The stage is open to the public and all guns and ammo will be provided. Top score wins a DPMS AP4 Carbine!
Machine Gun "Zombie Shoot": A machine gun demo will be on-site featuring a wide variety of full-auto firearms. Demo will feature bleeding Zombie Targets. Open to the public and run under the direction of the U.S. Shooting Academy Range staff. Ammo fees apply.
Food and beverage for sale on-site: Campbell's Catering of Tulsa
EYE AND EAR PROTECTION IS REQUIRED. ALL SPECTATORS MUST CHECK IN AT THE US SHOOTING ACADEMY OFFICE PRIOR TO ATTENDING THE EVENT. 

Where:
US Shooting Academy
6500 East 66th St N, Tulsa, OK 74117
(918) 948-7856
www.usshootingacademy.com
When:
Saturday, October 25
All Day 8 AM-6 PM
Grand Finale: 4-6 PM