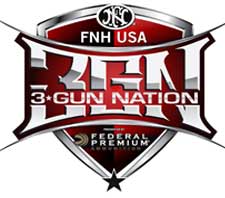 U.S. SHOOTING ACADEMY – Army Staff Sgt. Daniel Horner did what no other shooter has been able to do since 3GN's debut in 2010—he became the first to win a second 3GN Championship.  Horner defeated teammate Sgt. Matthew Sweeney two bouts to none to win the all-AMU final, taking home $50,000 from Leupold Optics and NRA Sports.
Horner won the inaugural 3GN Championship back in 2010, the exclamation point on a dominant season where the soldier won several Shoot-Offs and dominated match after match upon return from deployment in Afghanistan. But it has proven difficult for the game's best shooter to repeat that performance against a field that has gotten deeper and deeper each season.
In the 2011-2012 season, Horner dropped a rifle plate versus Tommy Thacker, who went on to win the Championship. The following year, Barry Dueck went on a Cinderella run of his own, laying down a blistering rifle run to knock off the favorite. Then last season, Greg Jordan was simply unbeatable during the finale, knocking off Horner on his way to an impressive 3GN Championship run.
In an event that requires remarkable skill, near-perfect execution, and even a little luck, Horner—the favorite to win each year—had yet to reach that 2010 high water mark—until now. After his series score earned him an opening round bye, Horner went on absolute tear, taking down John Mouret 2-0 in the second round, before cruising against BJ Norris and Chris Andersen in single-elimination bouts, sending Horner to the finals.
Sweeney, meanwhile, was showing it might just be his day, as he laid down one incredible run after another through the preliminary bouts, turning in arguably the fastest, most dominating runs from the entire field. Sweeney cruised to wins against Aaron Reed 2-0, and John Browning 2-0, before laying down a great rifle array to knock out James Casanova. Then Sweeney shocked the crowd, as he stayed even with defending Champion Greg Jordan through the shotgun and rifle arrays before a pistol jam sealed the Champ's fate, setting up the all-AMU final. For his second place finish, Sweeney was awarded a check for $10,000, courtesy of Comp-Tac.
The Quarter-Final round saw plenty of high drama as well, highlighted by Chris Andersen's upset of teammate Burton Thompson, another favorite to make a deep run. Andersen jumped out to a big lead on the rifle array, one Thompson nearly rallied to overcome, losing right at the stop plate, setting up Andersen's matchup versus Horner. Meanwhile, Jordan cruised against Nick Atkinson, setting up the matchup versus Sweeney.
In the consolation round, Jordan and Andersen squared off to decide third place for the tournament. Coming right after Jordan's disappointing loss to Sweeney, the ArmaLite shooter was impressive in his ability to refocus, shake off the loss, and put together a solid run to defeat Andersen. For his efforts and recognition of his third place finish, Jordan was awarded a check for $5,000 from Timney Triggers.
In double-elimination, second-round action, BJ Norris cruised against Jason Tielke 2-0. After dropping the first bout, Burton Thompson won two consecutive bouts in an entertaining matchup to advance over Mike Voigt. Andersen's incredible tournament notched one of its more impressive showings when he outlasted AMU's Shane Coley 2-1, winning the final bout from behind after a solid rifle run.
The second round saw one of the bigger upsets of the tournament when James Casanova took down past 3GN Champion Keith Garcia 2-1. In the opening bout, it was Casanova to the stop plate first in impressive fashion; however, a fault on one pistol plate cost the Noveske shooter the run. And after what seemed like a big miscue, Casanova put together two more blistering runs to take down Garcia and advance in one of the stronger performances of the tournament.
Other second-round action saw Jordan take down teammate and former champ Tommy Thacker 2-0. And 3GN Rookie Nick Atkinson was impressive taking down Bushmaster's Ravin Perry 2-1.
Double-elimiantion, first-round matchups included John Mouret over Kalani Laker 2-0. Jason Tielke, coming off his best 3GN season, knocked off Jansen Jones 2-1. BJ Norris won an electric matchup over Jerry Miculek, coming from behind two consecutive runs to win in straight bouts. Thompson eliminated David Hill 2-0, while Voigt took down Tommy Smith in straight bouts.
Team Stag Arms' Jesse Tischauser and Coley had one of the more compelling matchups of the first round. In the first bout, Coley nearly fell bursting out of the start block, before jumping out to a lead with the rifle. Tischauser then burnt down the shotgun array to take the lead, before holding off one of the top pistol shooters in this tournament at the stop plate. Conversely, the second run was all Coley, as the soldier recovered to lead through all three arrays, presumably setting up an exciting third bout. However, upon review, Tischauser had made a mistake. While abandoning his shotgun, after dismounting he realized he'd forgotten to burn the final round, whereupon he quickly attempted to reacquire the shotgun and fire off the final shotshell. Unfortunately for Tischauser, his impact violated the minimum distance rule, thereby disqualifying him from the tournament.
In other first-round action, Andersen knocked off AMU's Tyler Payne 2-1 in an exciting matchup. Garcia took down FNH USA's Mark Hanish in straight bouts. Casanova began his impressive run by outlasting Bushmaster's Rob Tate 2-1. Browning hung tough to knock off the favorite West Chandler 2-1. Jordan began his title defense taking down 3GN Rookie Jacob Betsworth in straight bouts. Thacker was equally impressive in his opening-round win over Rick Birdsall 2-0. Perry cruised against AMU's Joel Turner 2-0. And Nick Atkinson won a hard-fought opening matchup against teammate and junior shooter Brian Nelson, 2-1.
The 3GN Championship prize table was highlighted by an integrated XRAIL-Benelli from XRAIL by RCI, a pair of rifles and more from Aero Precision, 12 firearms ranging from an LCR all the way up to a pair of $2,000 rifles from Ruger, muzzle brakes from Rise Armament, sponsor-provided products and products purchased by 3-Gun Nation.
The 3GN Championship, Rumble on the Range, was sponsored by FNH USA, Leupold Optics, Remington, Bushmaster, Comp-Tac, Timney Triggers, Stag Arms, Magpul, Aero Precision, DPMS, Para USA, Samson Manufacturing, Ruger, Rise Armament, XRAIL by RCI, and Italian Gun Grease.
The event was open to the public, featuring a machine gun shoot, demo bay and arguably the hottest attraction of the day—the 3-Gun Side Shoot, presented by Remington, DPMS, Para USA and Leupold Optics. Spectators lined up to take their shot at the sport of 3-Gun, with one lucky fan walking away with a brand new DPMS rifle.
The 3GN Championship was filmed for broadcast later this year on Sportsman Channel and Pursuit Network. To see local Tulsa coverage of the event, go to http://www.tulsaworld.com/sportsextra/outdoors/bullets-shooters-fly-at–gun-event/article_bd08f4ea-fee8-5aba-b54c-73d068cb3af5.html.
For more information, go to 3GunNation.com.